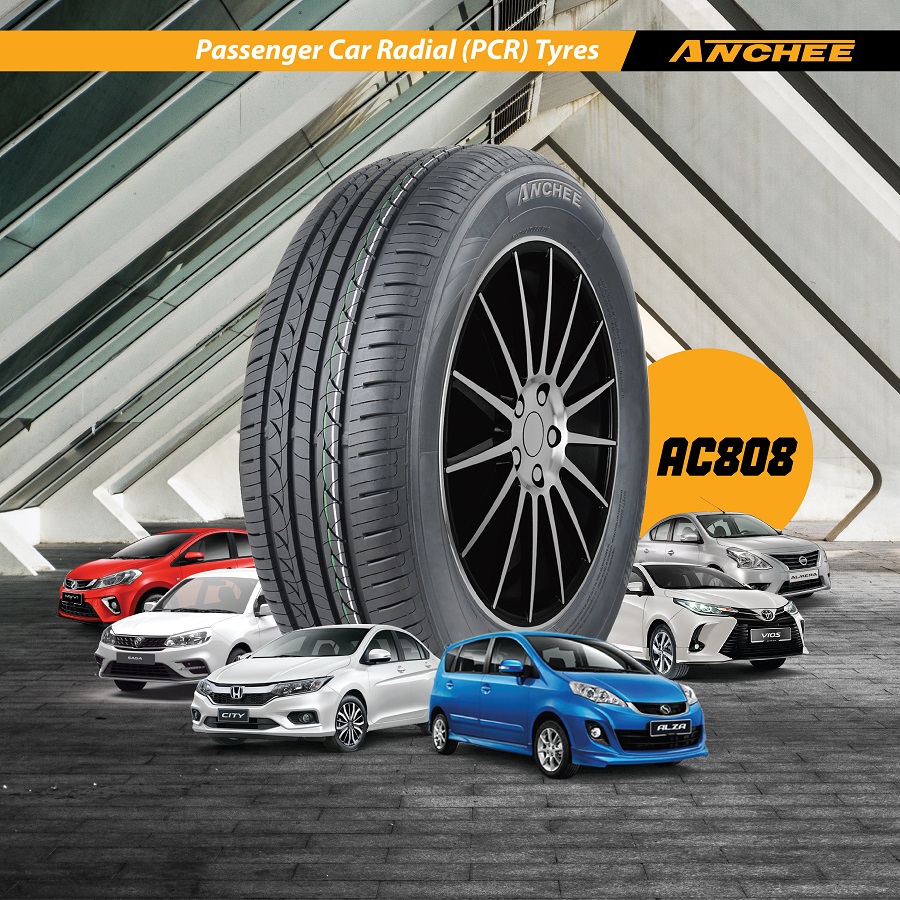 Anchee AC808 Passenger Car Tyres
The Anchee AC808 provides affordable 13" to 16" passenger car radial (PCR) tyres with fuel-efficient design for added savings, improved safety and comfortable driving that are ideal for budget-conscious drivers throughout Sarawak and Sabah.    
Certified by quality standards including ISO/DOT/ECE, the AC808 offers a reliable and cost-effective choice of passenger tyre for many popular vehicles in Malaysia including Perodua Myvi, Proton Saga, Toyota Vios, Honda City, Nissan Almera and more.    
Road Grip
The Anchee AC808 delivers excellent traction in wet weather conditions by combining 4 linear grooves with finely-divided pattern design that corresponds to each steel section to improve grip performance and water handling capability.      
Fuel Efficiency
The Anchee AC808's low rolling resistance tread optimizes pattern design, construction and silicon formula to achieve optimal tread stiffness for efficient wear performance resulting in greater savings in fuel consumption.      
Ride Comfort
The Anchee AC808 is designed to promote comfortable driving by incorporating silent tread technology to dampen tyre noise as well as cut-resistant tread to prevent the likelihood of uneven wear from occurring. 
Available Sizes
155/65 R13 ANCHEE AC808
165/65 R13 ANCHEE AC808
175/70 R13 ANCHEE AC808 – Hot 13" size
165/60 R14 ANCHEE AC808
175/65 R14 ANCHEE AC808 – Hot 14" size
185/60 R14 ANCHEE AC808 – Hot 14" size
185/70 R14 ANCHEE AC808 – Hot 14" size
185/55 R15 ANCHEE AC808 – Hot 15" size
185/60 R15 ANCHEE AC808
185/65 R15 ANCHEE AC808
195/50 R15 ANCHEE AC808 – Hot 15" size
195/55 R15 ANCHEE AC808 – Hot 15" size
195/60 R15 ANCHEE AC808 – Hot 15" size
195/65 R15 ANCHEE AC808 – Hot 15" size
205/65 R15 ANCHEE AC808
205/70 R15 ANCHEE AC808
195/50 R16 ANCHEE AC808 – Hot 16" size
195/60 R16 ANCHEE AC808
205/50 R16 ANCHEE AC808 – Hot 16" size
205/55 R16 ANCHEE AC808
205/60 R16 ANCHEE AC808
215/55 R16 ANCHEE AC808
215/60 R16 ANCHEE AC808
225/60 R16 ANCHEE AC808

We Keep Your Wheels Turning
We sell a wide range of automotive tyres for compact cars, passenger cars, sedans, sports utility vehicles (SUVs), multi-purpose vehicles (MPVs), 4x4/4-wheel drive (4x4/4WD), ultra-light trucks, pickup trucks, light trucks, lorries and more.
Our network of tyre shop dealers and automotive service centres such as Sunlun Auto Service, Tireman Autocare, Roadkruzer Tyremart, Rightpower Hyundai 3S Service Centre, Maxspeed Automart Mazda 3S Service Centre and Rightpower Ford 3S Service Centre operate throughout East Malaysia including Sibu and Kuching in Sarawak and Kota Kinabalu in Sabah.
Browse our Products or Contact us for more details about our product availability.
About Anchee
Anchee tyres are developed by Shandong Xinghongyuan Tyre, a subsidiary of Xingyuan Group – a Top 10 Chinese manufacturer with annual production capacity of 12 million passenger tyres, 5.8 million radial truck tyres and 200,000 radial OTR tyres. Launched in 2019, Anchee is part of tyre brand family including Hilo, Annaite, Amberstone, Guangda and Xingyuan with certified quality standards from DOT, ISO14001, ISO/TS 16949, OHSAS18001 and more.
Links
https://www.ancheetyre.com/
https://www.xingyuan-frdept.com/cartire-anchee-ac808-ancheetyre.html
Size Compatibility
175/70 R13 ANCHEE AC808
Proton Saga BLM / Wira / Satria / Persona
165/60 R14 ANCHEE AC808
Hyundai i10
Proton Savvy
175/65 R14 ANCHEE AC808
Fiat 500 / Doblo
Honda City / Jazz
Hyundai i10
Perodua Axia / Bezza / Myvi / Alza
Proton Iriz / Persona / Saga
Toyota Vios
185/60 R14 ANCHEE AC808
Hyundai Accent / Getz
Perodua Myvi
Proton Saga / Wira / Iriz / Persona / Satria
185/70 R14 ANCHEE AC808
Hyundai i20
Nissan Almera
Toyota Avanza / Ipsum
185/55 R15 ANCHEE AC808
Fiat 500 / Panda
Honda City / Jazz
Mitsubishi Attrage / Mirage G4
Perodua Alza / Myvi / Axia / Bezza 
Proton Persona / Saga / Iriz / Satria / Wira
Toyota Vios
185/60 R15 ANCHEE AC808
Honda City / Jazz
Toyota Vios / Sienta / Prius C / Yaris
Volkswagen Polo / Hatchback / Vento
185/65 R15 ANCHEE AC808
Fiat Biposto
Nissan Almera / X-Gear / Grand Livina
Proton Ertiga
Toyota Avanza / Prius / Yaris
Volkswagen Polo
195/50 R15 ANCHEE AC808
Proton Saga BLM / Satria / Wira
195/55 R15 ANCHEE AC808
Honda City
Proton Waja / Gen2 / Satria Neo / Persona
Perodua Alza / Myvi
Volkswagen Polo
195/60 R15 ANCHEE AC808
Honda City / Civic
Naza Citra / Kia Rondo
Nissan Sentra
Proton Persona
Toyota Avanza / Altis / Ipsum / Prius C
195/65 R15 ANCHEE AC808
Ford Ecosport Ambiente / Trend
Honda Civic
Hyundai Elantra / Ioniq
Mazda Mazda3 / Mazda5 / Mazda6
Nissan Sylphy / Serena / Almera Turbo VL
Proton Exora
Toyota Corolla / Prius / Auris
205/65 R15 ANCHEE AC808
Hyundai Sonata
Toyota Innova / Ipsum / Camry
195/50 R16 ANCHEE AC808
Ford Fiesta
Lotus Elise
Toyota Sienta / Vios / Yaris
195/60 R16 ANCHEE AC808
Honda BR-V
Nissan Serena / Sylphy
205/50 R16 ANCHEE AC808
Nissan Almera Impul
205/55 R16 ANCHEE AC808
Proton Preve / Exora / Suprima S
Honda Civic
Toyota Corola Altis
Mazda 5
Hyundai Elantra
Kia Forte
Nissan Serena / Leaf / Almera Turbo (VLP/VLT)
Volkswagen New Beetle / Golf / Jetta / Passat / Touran
Mercedes A200
BMW 3 Series
Daimler C Class
Lexus CT200h
205/60 R16 ANCHEE AC808
Ford Focus / Ecosport
Great Wall Haval H1
Honda Accord
Mazda Mazda3
Proton Inspira
Suzuki SX4
215/55 R16 ANCHEE AC808
Honda Civic
215/60 R16 ANCHEE AC808
Honda Accord
Nissan Teana
Toyota Camry
Volkswagen Beetle
OTHER SIZES
155/65 R13 ANCHEE AC808
165/65 R13 ANCHEE AC808
205/70 R15 ANCHEE AC808
225/60 R16 ANCHEE AC808
* Always refer to your vehicle manual for specifications in your region