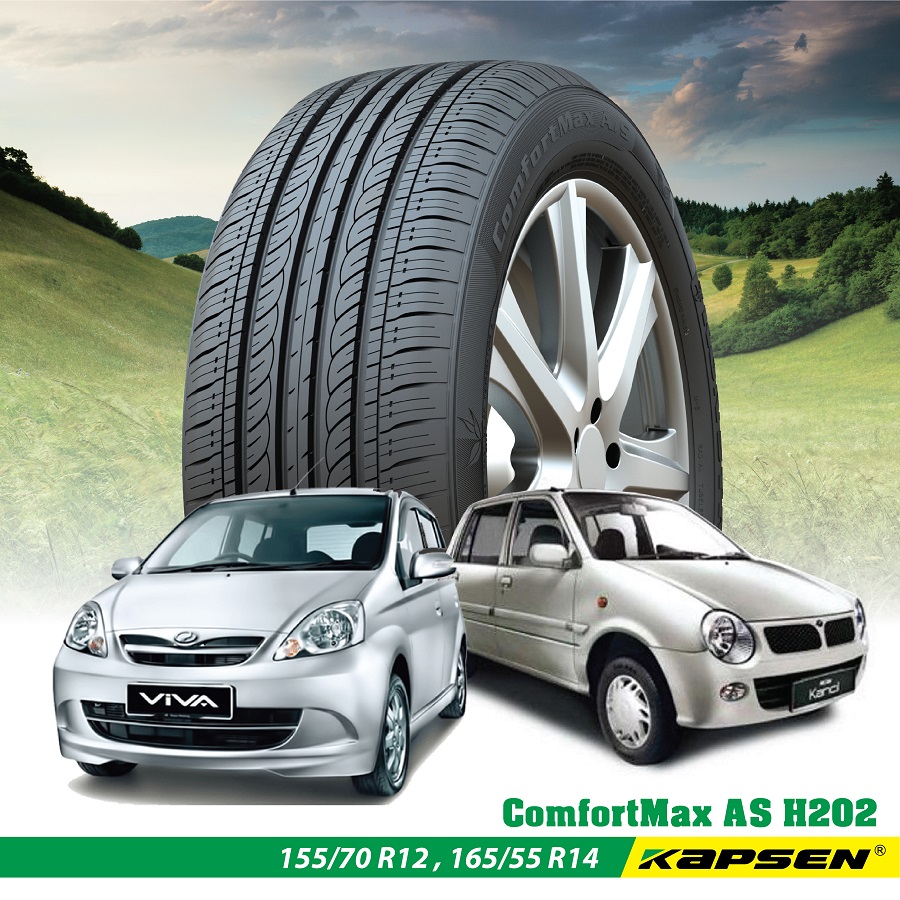 Best Perodua Kancil/Viva Compact Car Tyres from Kapsen
The strong affection for Perodua Kancil and Perodua Viva compact cars continues to endure as enthusiastic owners converged on The Boom Festival 2023 auto event at Dataran Karnival Stadium Shah Alam for the vibrant "Mini Super Kcar Mega Gathering" earlier this year.    
With the needs of legacy Perodua vehicle models in mind, the Kapsen ComfortMax AS H202 introduces cost-effective 155/70 R12 and 165/55 R14 passenger car radial (PCR) tyres for Perodua models such as Kancil 660EX / 660EXb / 850EX and Viva 660 / 850 / 1000 / Elite.
Efficient Grip
The Kapsen ComfortMax AS H202 delivers efficient fuel savings by reducing rolling resistance coefficient with silicon-containing compound formula, as well as utilizing specially-designed tread block to improve grip performance on wet and dry road conditions.    
Silent Design
The Kapsen ComfortMax AS H202 promotes a comfortable driving experience by integrating optimized pattern pitch arrangement with sound-dampening grooves while its special tread contour with optimized cross-sectional design improves handling stability.  
We Keep Your Wheels Turning
We sell a wide range of automotive tyres for compact cars, passenger cars, sedans, sports utility vehicles (SUVs), multi-purpose vehicles (MPVs), 4x4/4-wheel drive (4x4/4WD), ultra-light trucks, pickup trucks, light trucks, lorries and more.
Our network of tyre shop dealers and automotive workshop service centres such as Sunlun Auto Service, Tireman Autocare, Roadkruzer Tyremart, Rightpower Hyundai 3S Service Centre, Maxspeed Automart Mazda 3S Service Centre and Rightpower Ford 3S Service Centre operate throughout East Malaysia including Sibu and Kuching in Sarawak and Kota Kinabalu in Sabah.
Browse our Products or Contact us for more details about our product availability.
About Kapsen
Kapsen tyres are manufactured by Shandong Huasheng Rubber, a Chinese tyre producer with annual capacity of 20 million PCR and 8 million TBR tyres that are widely exported to Europe, America, Middle East, Africa and Oceania. Kapsen is part of tyre brand family including Habilead, Huasheng, Taitong and TerraKing that meet manufacturing quality standards from DOT, ECE, ISO9001, ISO14001, GCC, SONCAP, SASO and more.
Links
https://www.kapsentyre.com/product_90_ComfortMaxASH202.html
https://www.nst.com.my/news-cars-bikes-trucks/2023/02/881859/boom-festiv...