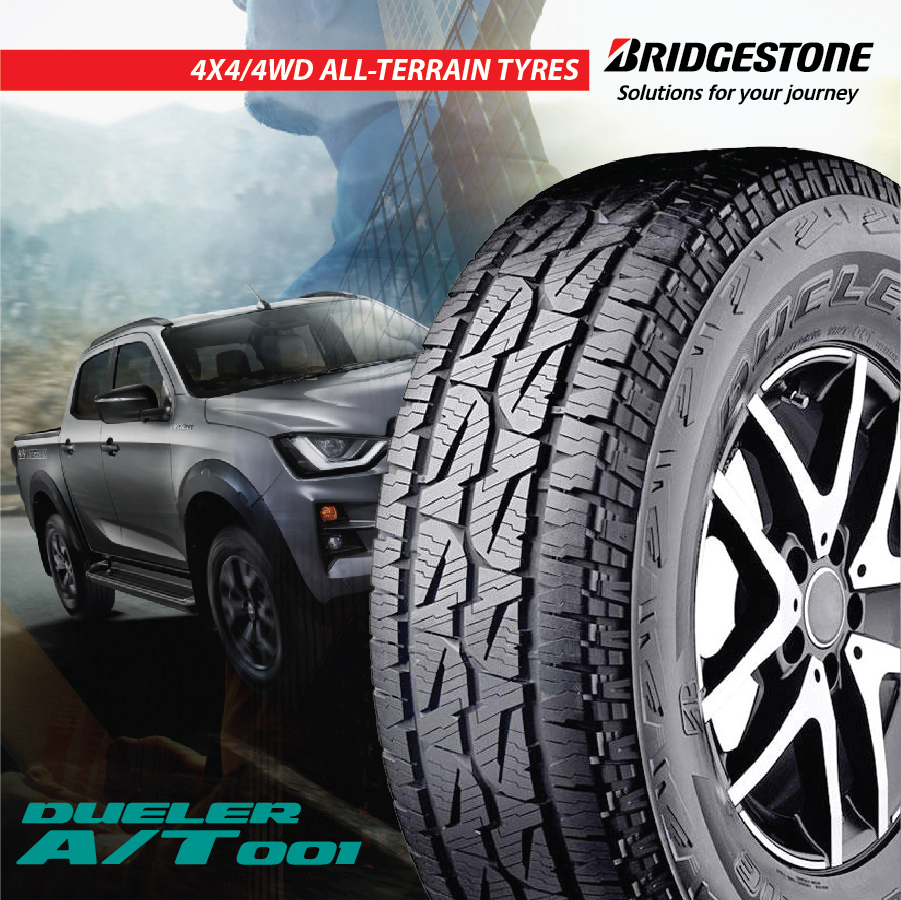 Bridgestone Dueler A/T 001 All-Terrain 4x4 Tyres
Power through your ride with Bridgestone Dueler A/T 001, the durable 15" to 18" all-terrain 4x4 tyres engineered to let you stay in control on whatever path you choose – displaying rugged performance off the road while delivering comfortable efficiency on the road.   
From highway commutes to backcountry trails, the Dueler A/T 001 offers adventure-driven motorists in Sarawak and Sabah with premium quality 4x4 on/off-road tyres that are the perfect match for Isuzu D-Max, Toyota Hilux, Mitsubishi Triton, Mazda BT-50 and more. 
All-Terrain Grip
The Bridgestone Dueler A/T 001 features durable all-terrain tread with winding grooves that provide powerful off-road grip while maintaining on-road straight line/cornering stability, as well as optimized block stiffness for cut/chip prevention and added off-road grip.    
Wet Capability
The Bridgestone Dueler A/T 001 incorporates new tyre compound formulation combined with optimized sipe shape/angle and straight groove design to achieve higher-level wet weather capabilities by enhancing water evacuation for improved hydroplaning resistance.
Reliable Performance
The Bridgestone Dueler A/T 001 integrates (i) high-angle lug groove design for better braking and lower road noise/vibration (ii) fuel-efficient compound with improved rolling resistance coefficient (RRC) and (iii) optimized sipe design to help minimize heel and toe wear.
Popular Sizes
265/70 R15 BRIDGESTONE DUELER A/T 001
265/70 R16 BRIDGESTONE DUELER A/T 001
265/60 R18 BRIDGESTONE DUELER A/T 001
We Keep Your Wheels Turning
We sell a wide range of automotive tyres for compact cars, passenger cars, sedans, sports utility vehicles (SUVs), multi-purpose vehicles (MPVs), 4x4/4-wheel drive (4x4/4WD), ultra-light trucks, pickup trucks, light trucks, lorries and more.
Our network of tyre shop dealers and automotive workshop service centres such as Sunlun Auto Service, Tireman Autocare, Roadkruzer Tyremart, Rightpower Hyundai 3S Service Centre, Maxspeed Automart Mazda 3S Service Centre and Rightpower Ford 3S Service Centre operate throughout East Malaysia including Sibu and Kuching in Sarawak and Kota Kinabalu in Sabah.
Browse our Products or Contact us for more details about our product availability.
About Bridgestone
Bridgestone is one of the world's largest tyre manufacturer and original equipment (OE) supplier for major automotive brands such as Mercedes, BMW, Porsche, Ferrari and Lamborghini. Founded in Kurume, Japan in 1931, Bridgestone develops innovative tyre, mobility and diversified technologies with business presence in more than 150 countries supported by about 180 manufacturing/R&D facilities globally.
Links
https://www.bridgestonetyre.com.my/en/tyre/dueler-at-001
Size Compatibility
265/70 R15 BRIDGESTONE DUELER A/T 001
Mitsubishi Pajero
Nissan Frontier / Navara
Toyota Land Cruiser Prado
245/70 R16 XL BRIDGESTONE DUELER A/T 001
Chevy Trail Blazer
Dodge Dakota / Durango
Ford Explorer / Ranger
Foton Bison Savanna
GM Canyon
Honda Passport
Isuzu D-Max / MU-X / Trooper / Rodeo
Jeep Grand Cherokee
Kia Sorento
Mazda BT-50
Mitsubishi Triton / Pajero Sport / Raider
Nissan Navara / Pathfinder
Toyota Tundra / Sequoia
265/70 R16 BRIDGESTONE DUELER A/T 001
Dodge Dakota
Ford F-150 4WD
Mitsubishi Triton / L200 / Pajero / Montero / Raider
Nissan Frontier / NP300 / Navara / Xterra
Suzuki Equator
Toyota Hilux / Fortuner / Tacoma
Toyota Land Cruiser / Prado / Sequoia
ZX Auto Terralord
265/65 R17 BRIDGESTONE DUELER A/T 001
Chevy Colorado
Dodge Dakota
Ford Ranger
GMC Canyon
Lexus GX470
Mazda BT-50
Mitsubishi Triton / Pajero Sport VGT / Montero / Raider
Nissan Frontier / Navara / Pathfinder / Xterra
Suzuki Equator
Toyota Hilux Double Cab / Fortuner 4x4 AT
Toyota Land Cruiser / 4-Runner
265/60 R18 BRIDGESTONE DUELER A/T 001
Chevrolet Colorado LTZ
Ford Ranger / Everest Trend / F-150
Isuzu D-Max
Jeep Grand Cherokee Limited / Night Eagle / Trailhawk
Mazda BT-50
Mercedes G350d / G500
Mitsubishi Triton / Pajero / Exceed
Nissan Frontier
Toyota Hilux Double Cab / Fortuner / Land Cruiser / Prado
OTHER SIZES
275/70 R16 BRIDGESTONE DUELER A/T 001
* Always refer to your vehicle manual for specifications in your region