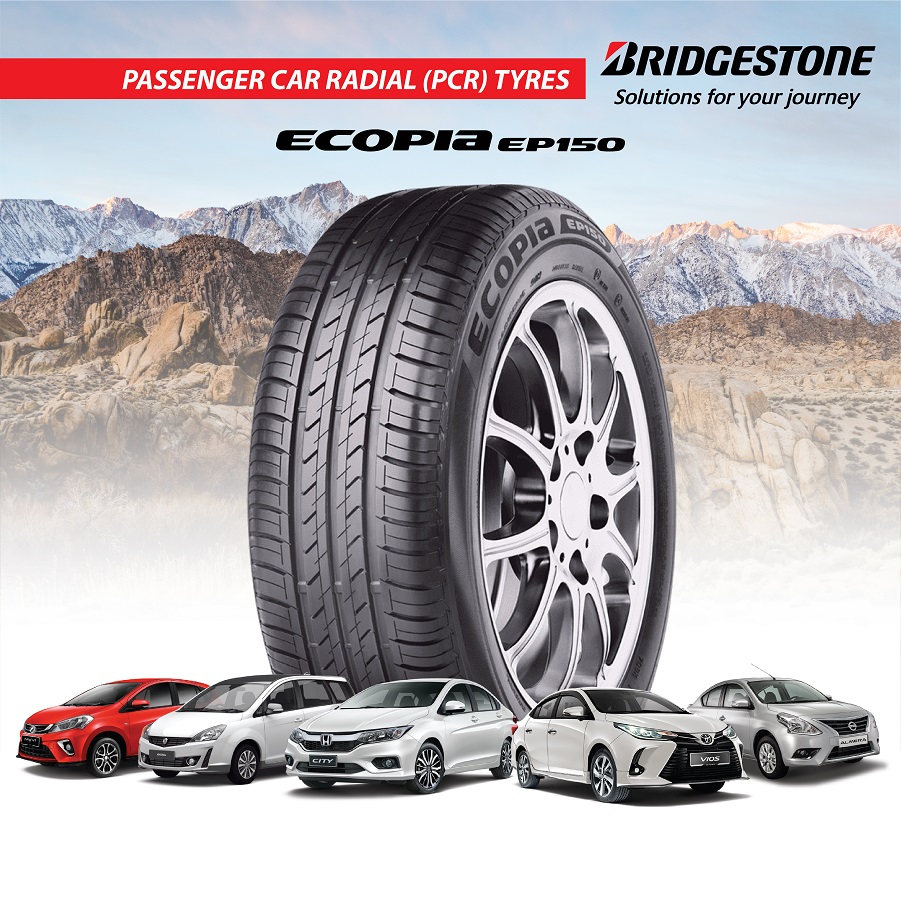 Bridgestone Ecopia EP150 Passenger Car Radial (PCR) Tyres
Experience the best of safety and eco-performance with Bridgestone Ecopia EP150 passenger car radial (PCR) tyres engineered to deliver outstanding fuel economy, excellent braking and reliable handling for eco-conscious motorists in Sarawak and Sabah, East Malaysia.          
Available in 12" to 16" sizes, the Ecopia EP150 is relied on as the original equipment (OE) tyre globally by major brands including Toyota, Nissan and Hyundai with compatible fitments for popular models such as Perodua Myvi, Proton Saga, Toyota Vios, Honda City and more. 
Fuel Efficiency
The Bridgestone Ecopia EP150 achieves up to 2.5% better fuel economy by incorporating low rolling resistance compound with optimized weight that minimizes heat buildup through less internal friction and in turn, lowering CO2 emissions by up to 7.1%.         
Safer Braking
The Bridgestone Ecopia EP150 achieves 8% improvement in wet braking performance with rib-connected centre blocks that promote even contact for effective braking and high-angled lugs that help evacuate water for better resistance to aquaplaning.       
Controlled Handling
The Bridgestone Ecopia EP150 improves handling stability and comfort by ensuring consistent surface contact with (i) optimized 3D block shape that minimizes block surface contact lift off and (ii) solid circumferential rib design that minimizes block deformations. 
Available Sizes
155/70 R12 BRIDGESTONE ECOPIA EP150
185/60 R14 BRIDGESTONE ECOPIA EP150
185/65 R14 BRIDGESTONE ECOPIA EP150
185/70 R14 BRIDGESTONE ECOPIA EP150
175/60 R15 BRIDGESTONE ECOPIA EP150
185/60 R15 BRIDGESTONE ECOPIA EP150
195/60 R15 BRIDGESTONE ECOPIA EP150
185/65 R15 BRIDGESTONE ECOPIA EP150
195/65 R15 BRIDGESTONE ECOPIA EP150
195/60 R16 BRIDGESTONE ECOPIA EP150
205/65 R16 BRIDGESTONE ECOPIA EP150
We Keep Your Wheels Turning
We sell a wide range of automotive tyres for compact cars, passenger cars, sedans, sports utility vehicles (SUVs), multi-purpose vehicles (MPVs), 4x4/4-wheel drive (4x4/4WD), ultra-light trucks, pickup trucks, light trucks, lorries and more.
Our network of tyre shop dealers and automotive workshop service centres such as Sunlun Auto Service, Tireman Autocare, Roadkruzer Tyremart, Rightpower Hyundai 3S Service Centre, Maxspeed Automart Mazda 3S Service Centre and Rightpower Ford 3S Service Centre operate throughout East Malaysia including Sibu and Kuching in Sarawak and Kota Kinabalu in Sabah.
Browse our Products or Contact us for more details about our product availability.
About Bridgestone
Bridgestone is one of the world's largest tyre manufacturer and original equipment (OE) supplier for major automotive brands such as Mercedes, BMW, Porsche, Ferrari and Lamborghini. Founded in Kurume, Japan in 1931, Bridgestone develops innovative tyre, mobility and diversified technologies with business presence in more than 150 countries supported by about 180 manufacturing/R&D facilities globally.
Links
https://www.bridgestonetyre.com.my/en/tyre/ecopia-ep150
Size Compatibility
155/70 R12 BRIDGESTONE ECOPIA EP150
Perodua Viva / Kancil
185/60 R14 BRIDGESTONE ECOPIA EP150
Hyundai Accent / Getz
Perodua Myvi
Proton Saga / Wira / Iriz / Persona / Satria
185/65 R14 BRIDGESTONE ECOPIA EP150
Honda City
Hyundai Getz / Matrix
Nissan Sentra
185/70 R14 BRIDGESTONE ECOPIA EP150
Hyundai i20
Nissan Almera
Toyota Avanza / Ipsum
175/60 R15 BRIDGESTONE ECOPIA EP150
Perodua Axia
185/60 R15 BRIDGESTONE ECOPIA EP150
Honda City / Jazz
Toyota Vios / Sienta / Prius C / Yaris
Volkswagen Polo / Hatchback / Vento
195/60 R15 BRIDGESTONE ECOPIA EP150
Honda City / Civic
Naza Citra / Kia Rondo
Nissan Sentra
Proton Persona
Toyota Avanza / Altis / Ipsum / Prius C
185/65 R15 BRIDGESTONE ECOPIA EP150
Fiat Biposto
Nissan Almera / X-Gear / Grand Livina
Proton Ertiga
Toyota Avanza / Prius / Yaris
Volkswagen Polo
195/65 R15 BRIDGESTONE ECOPIA EP150
Ford Ecosport Ambiente / Trend
Honda Civic
Hyundai Elantra / Ioniq
Mazda Mazda3 / Mazda5 / Mazda6
Nissan Sylphy / Serena / Almera Turbo VL
Proton Exora
Toyota Corolla / Prius / Auris
195/60 R16 BRIDGESTONE ECOPIA EP150
Honda BR-V
Nissan Serena / Sylphy
205/65 R16 BRIDGESTONE ECOPIA EP150
Toyota Innova 2.0G/E
Toyota Innova/Estima (2010 & Below)
* Always refer to your vehicle manual for specifications in your region