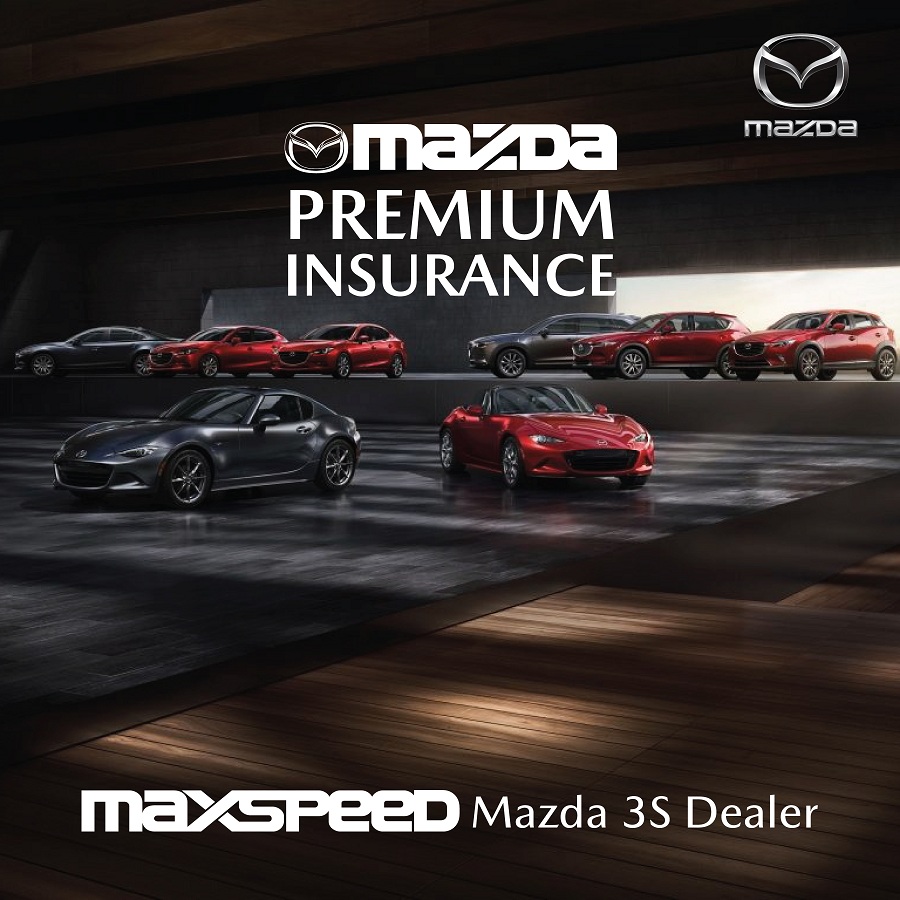 Drive Safe with Mazda Premium Insurance
Did you know that our Mazda 3S Dealer in Sabah and Sarawak, Maxspeed Automart also provides Mazda car insurance renewals, accident claims and car collision repairs?
Mazda Premium Insurance
The Mazda Premium Insurance (MPI) is a comprehensive motor insurance policy from Berjaya Sompo Insurance Berhad which covers loss or damage to your Mazda due to accident, theft, burglary or natural disaster.
This exclusive Mazda motor car insurance policy also offers special benefits and coverage for your Mazda:
Agreed Value Up To 12 Years
100% compensation based on sum insured.
In the event of total loss, theft & burglary.
No Betterment Up To 10 Years
Applicable in accident claim.
No charge for new parts replacement except wear & tear parts.
No Excess Up To 10 Years
Exception:
(1) Holder of "L" license.
(2) Age under 21 years old.
Personal Accident Coverage Up To RM100,000
Not applicable to private cars registered under company name.
Accident death & permanent disablement.
For driver only.
Loss Caused By Natural Disaster
Up to RM10,000 or 20% of sum insured, whichever is lower.
Such as flood, landslide storm etc.
Total Loss & Theft Allowance
Up to RM5,000 or 10% of sum insured.
Accident Inconvenience Allowance Up To RM1,000
RM200 per day for repair period recommended by adjuster.
Maximum of 5 days for OD & OD KFK claim.
12 Months Repair Warranty
For accident claim.
Unlimited Towing 24/7 1800-18-8011
For any single towing trip (accident scene to 1st workshop)
Unlimited times per policy period.
Waiver of Named Driver
Exception:
(a) Driver is under 21 years old.
(b) "L" license holder.
*Subject to terms & conditions
Be sure to get in touch with us for your next Mazda car insurance renewal and enjoy worry-free motor insurance coverage at Maxspeed Automart!  
Mazda Car Insurance @ Kota Kinabalu, Sabah
Insurance & Road Tax Renewal
Tel: 088-729696 / 011-5970 1808
Accident Claim & Collision Repair
Tel: 088-728585 / 016-889 8266
Mazda Car Insurance @ Kuching, Sarawak
Insurance & Road Tax Renewal
Tel: 082-454107
Accident Claim & Collision Repair
Tel: 082-575068 / 016-889 2086
Mazda Car Insurance @ Sibu, Sarawak
Insurance & Road Tax Renewal
Tel: 084-335118 (ext.135)
Accident Claim & Collision Repair
Tel: 084-328124 / 016-889 0920
About Maxspeed Automart
Maxspeed Automart Sdn Bhd is an authorized East Malaysia Mazda service, spare parts and sales (3S) dealer operating in Sibu & Kuching, Sarawak and Kota Kinabalu, Sabah in East Malaysia. It is a member of SUNLUN Group's Retail Division – a network of retail tyre, automotive service centres and automotive dealerships established since 1980s throughout Sarawak and Sabah, East Malaysia.
*This article was updated in July 2020.
Source
https://www.maxspeed.com.my/
https://www.berjayasompo.com.my/