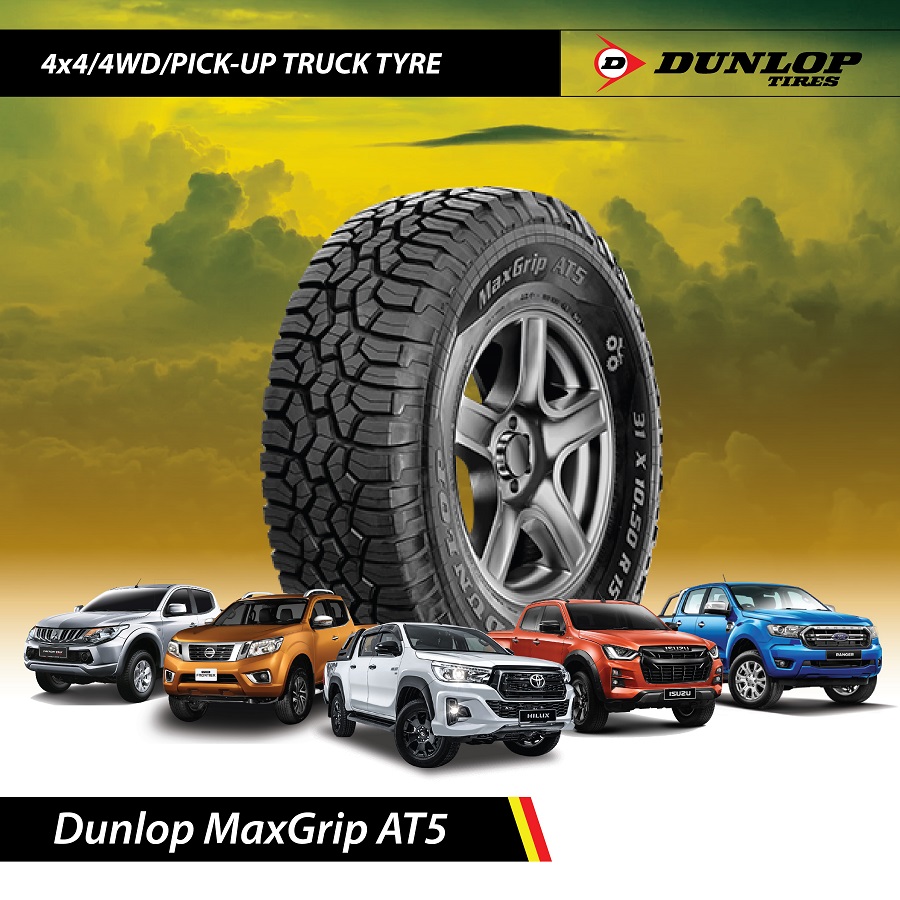 Dunlop MaxGrip AT5 4x4/4WD Tyres
Whatever the road, whatever the terrain – bring it on with Dunlop MaxGrip AT5 4x4/4WD all-terrain tyre.
The MaxGrip AT5 is proudly built for Malaysian roads and optimized to balance both on/off-road demands with impressive traction, toughness and endurance performance on all surfaces.
Available in 15" to 18" tyre sizes, the versatile MaxGrip AT5 is the ideal pickup truck tyre for popular 4x4/4WD vehicles such as Toyota Hilux, Isuzu D-Max, Ford Ranger, Mitsubishi Triton, Nissan NP300 and many more. 
All-Terrain Traction
The Dunlop MaxGrip AT5 tread construction is comprised of zig-zag blade blocks that create a varied-angle pattern to actively eject mud/stone and provide outstanding grip both on and off the road.
Tough Sidewall
The Dunlop MaxGrip AT5 is reinforced with sidewall protection ring which shields it from impacts against rocks or boulders and minimizes potential tyre damage to provide extra toughness on all surfaces.  
Better Mileage
The Dunlop MaxGrip AT5's optimal tread depth not only delivers better mileage performance but also enables heat to dissipate effectively for increased tyre endurance and durability.  
Available Sizes
255/70 R15 DUNLOP MAXGRIP AT5
265/70 R15 DUNLOP MAXGRIP AT5
31X10.50 R15 DUNLOP MAXGRIP AT5
245/70 R16 DUNLOP MAXGRIP AT5
265/70 R16 DUNLOP MAXGRIP AT5
275/70 R16 DUNLOP MAXGRIP AT5
265/60 R18 DUNLOP MAXGRIP AT5
We Keep Your Wheels Turning
We sell a wide range of automotive tyres for compact cars, passenger cars, sedans, sports utility vehicles (SUVs), multi-purpose vehicles (MPVs), 4x4/4-wheel drive (4x4/4WD), ultra-light trucks, pickup trucks, light trucks, lorries and more.
Our network of tyre dealer workshops and automotive service centres such as Sunlun Auto Service, Tireman Autocare, Roadkruzer Tyremart, Rightpower Hyundai 3S Service Centre and Maxspeed Automart Mazda 3S Service Centre operate throughout East Malaysia including Sibu and Kuching in Sarawak and Kota Kinabalu in Sabah.
Browse our Products or Contact us for more details about our product availability.
About Dunlop
Dunlop is one of the world's leading manufacturers of high-performance tyres and original equipment (OE) supplier for major car brands such as Porsche, BMW, Mercedes, Audi, Toyota and Nissan. Credited with developing the world's 1st pneumatic tyre in 1888, Dunlop blends more than a century of motor racing experience with innovative technology to produce technical solutions tuned to the highest demands from the racetrack to the road.   
Links
https://www.dunloptyres.com.my/products/4x4-4wd-tyres/maxgrip-at5/
Size Compatibility
255/70 R15 DUNLOP MAXGRIP AT5
Toyota Hilux
31X10.50 R15 DUNLOP MAXGRIP AT5
Toyota Hilux-wide / Land Cruiser
Mitsubishi Pajero
Jeep CJ / TJ Unlimited / Commander XK / Cherokee
Dodge Ram / Ramcharger
245/70 R16 DUNLOP MAXGRIP AT5
Isuzu D-Max
Mitsubishi Pajero Sport 2.5GL / Triton
265/70 R16 DUNLOP MAXGRIP AT5
Toyota Land Cruiser / Prado
Mitsubishi Triton / L200
Nissan Frontier / NP 300
265/60 R18 DUNLOP MAXGRIP AT5
Toyota Hilux / Fortuner
Mitsubishi Triton
Ford Ranger / Everest Trend
OTHER SIZES
265/70 R15 DUNLOP MAXGRIP AT5
275/70 R16 DUNLOP MAXGRIP AT5