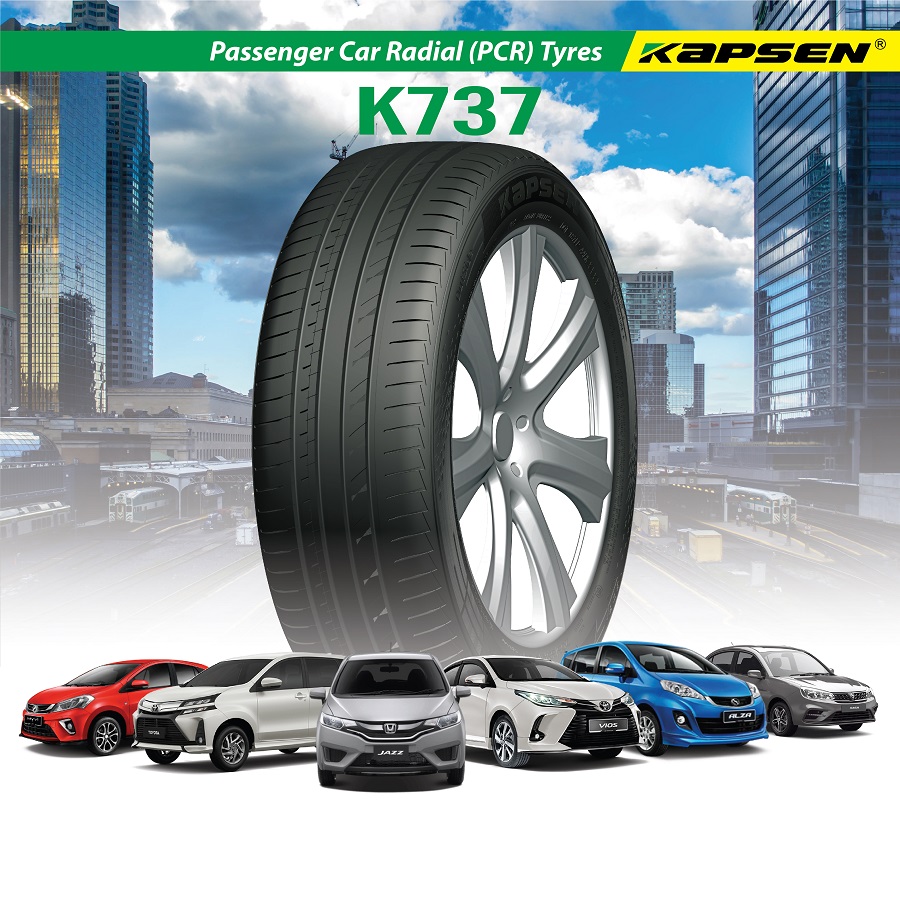 Kapsen K737 Passenger Car Tyres
The Kapsen K737 offers motorists in Sarawak and Sabah with the sensible choice of budget-friendly passenger car radial (PCR) tyres for popular vehicle models across Malaysia such as Perodua Bezza, Proton Saga, Toyota Vios, Honda City, Nissan Almera and more.    
Introduced in 2018, the K737 range of 13" to 17" asymmetric tyres are designed to meet tyre quality standards from DOT/ECE/CCC/SONCAP and aimed towards everyday driving comfort, safety and cost-effectiveness for many segments of compact cars, sedans and MPVs.
Quiet Comfort
The Kapsen K737's silent tread design is comprised of optimized multi-pitch pattern arrangement and silencer bloc to disperse tyre noise from the tread groove and promote greater driving comfort.
Ride Safety
The Kapsen K737's tread compound applies silica formulation to improve braking on wet roads while the asymmetric tread and 3 central rib design ensure excellent handling with stable performance on straight roads.  
Fuel Efficiency
The Kapsen K737 incorporates new materials, super high strength steel wire and single wound bead wire in a lightweight design to reduce rolling resistance and improve energy saving for better fuel economy.
Available Sizes
165/65 R13 KAPSEN K737
175/70 R13 KAPSEN K737 – Hot 13" size
165/60 R14 KAPSEN K737 – Hot 14" size
175/65 R14 KAPSEN K737 – Hot 14" size
185/60 R14 KAPSEN K737 – Hot 14" size
185/65 R14 KAPSEN K737
185/70 R14 KAPSEN K737 – Hot 14" size
195/60 R14 KAPSEN K737
195/70 R14 KAPSEN K737
175/65 R15 KAPSEN K737
185/55 R15 KAPSEN K737 – Hot 15" size
185/60 R15 KAPSEN K737 – Hot 15" size
185/65 R15 KAPSEN K737
195/50 R15 KAPSEN K737 – Hot 15" size
195/55 R15 KAPSEN K737 – Hot 15" size
195/60 R15 KAPSEN K737 – Hot 15" size
195/65 R15 KAPSEN K737
205/65 R15 KAPSEN K737 – Hot 16" size
205/55 R16 KAPSEN K737 – Hot 16" size
205/60 R16 KAPSEN K737
215/60 R16 KAPSEN K737
215/65 R16 KAPSEN K737
215/60 R17 KAPSEN K737 – Hot 17" size
We Keep Your Wheels Turning
We sell a wide range of automotive tyres for compact cars, passenger cars, sedans, sports utility vehicles (SUVs), multi-purpose vehicles (MPVs), 4x4/4-wheel drive (4x4/4WD), ultra-light trucks, pickup trucks, light trucks, lorries and more.
Our network of tyre shop dealers and automotive service centres such as Sunlun Auto Service, Tireman Autocare, Roadkruzer Tyremart, Rightpower Hyundai 3S Service Centre, Maxspeed Automart Mazda 3S Service Centre and Rightpower Ford 3S Service Centre operate throughout East Malaysia including Sibu and Kuching in Sarawak and Kota Kinabalu in Sabah.
Browse our Products or Contact us for more details about our product availability.
About Kapsen
Kapsen tyres are manufactured by Shandong Huasheng Rubber, a Chinese tyre producer with annual capacity of 20 million PCR and 8 million TBR tyres that are widely exported to Europe, America, Middle East, Africa and Oceania. Kapsen is part of tyre brand family including Habilead, Huasheng, Taitong and TerraKing that meet manufacturing quality standards from DOT, ECE, ISO9001, ISO14001, GCC, SONCAP, SASO and more.
Links
https://www.kapsentyre.com/index.html
https://www.linkedin.com/pulse/kapsen-brand-economy-tire-series-k737k300...
Size Compatibility
175/70 R13 KAPSEN K737
Proton Saga BLM / Wira / Satria / Persona
165/60 R14 KAPSEN K737
Hyundai i10
Proton Savvy
175/65 R14 KAPSEN K737
Fiat 500 / Doblo
Honda City / Jazz
Hyundai i10
Perodua Axia / Bezza / Myvi / Alza
Proton Iriz / Persona / Saga
Toyota Vios
185/60 R14 KAPSEN K737
Hyundai Accent / Getz
Perodua Myvi
Proton Saga / Wira / Iriz / Persona / Satria
185/65 R14 KAPSEN K737
Honda City
Hyundai Getz / Matrix
Nissan Sentra
185/70 R14 KAPSEN K737
Hyundai i20
Nissan Almera
Toyota Avanza / Ipsum
195/70 R14 KAPSEN K737
Toyota Unser
175/65 R15 KAPSEN K737
Fiat Panda
Honda Jazz / City
Suzuki Swift
185/55 R15 KAPSEN K737
Fiat 500 / Panda
Honda City / Jazz
Mitsubishi Attrage / Mirage G4
Perodua Alza / Myvi / Axia / Bezza 
Proton Persona / Saga / Iriz / Satria / Wira
Toyota Vios
185/60 R15 KAPSEN K737
Honda City / Jazz
Toyota Vios / Sienta / Prius C / Yaris
Volkswagen Polo / Hatchback / Vento
185/65 R15 KAPSEN K737
Fiat Biposto
Nissan Almera / X-Gear / Grand Livina
Proton Ertiga
Toyota Avanza / Prius / Yaris
Volkswagen Polo
195/50 R15 KAPSEN K737
Proton Saga BLM / Satria / Wira
195/55 R15 KAPSEN K737
Honda City
Proton Waja / Gen2 / Satria Neo / Persona
Perodua Alza / Myvi
Volkswagen Polo
195/60 R15 KAPSEN K737
Honda City / Civic
Naza Citra / Kia Rondo
Nissan Sentra
Proton Persona
Toyota Avanza / Altis / Ipsum / Prius C
195/65 R15 KAPSEN K737
Ford Ecosport Ambiente / Trend
Honda Civic
Hyundai Elantra / Ioniq
Mazda Mazda3 / Mazda5 / Mazda6
Nissan Sylphy / Serena / Almera Turbo VL
Proton Exora
Toyota Corolla / Prius / Auris
205/65 R15 KAPSEN K737
Hyundai Sonata
Toyota Innova / Ipsum / Camry
205/55 R16 KAPSEN K737
Proton Preve / Exora / Suprima S
Honda Civic
Toyota Corola Altis
Mazda 5
Hyundai Elantra
Kia Forte
Nissan Serena / Leaf / Almera Turbo (VLP/VLT)
Volkswagen New Beetle / Golf / Jetta / Passat / Touran
Mercedes A200
BMW 3 Series
Daimler C Class
Lexus CT200h
205/60 R16 KAPSEN K737
Ford Focus / Ecosport
Great Wall Haval H1
Honda Accord
Mazda Mazda3
Proton Inspira
Suzuki SX4
215/60 R16 KAPSEN K737
Honda Accord
Nissan Teana
Toyota Camry
Volkswagen Beetle
OTHER SIZES
165/65 R13 KAPSEN K737
195/60 R14 KAPSEN K737
215/65 R16 KAPSEN K737
215/60 R17 KAPSEN K737
* Always refer to your vehicle manual for specifications in your region