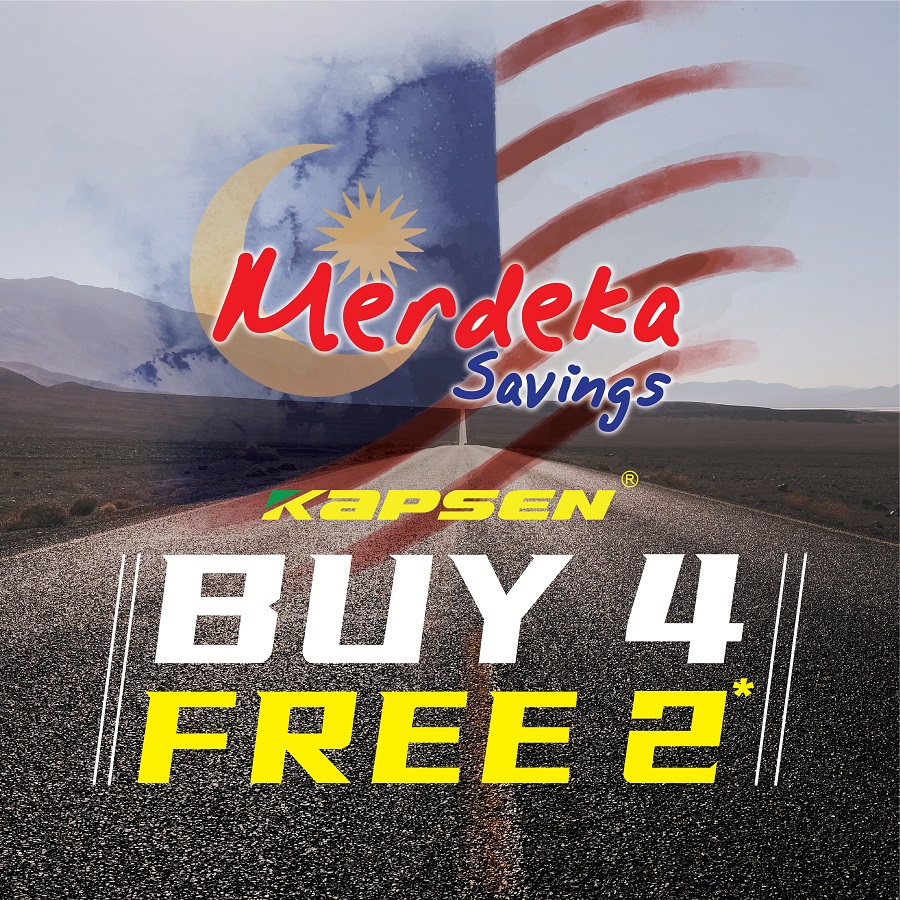 Kapsen Tyres - Enjoy Massive Tyre Savings this Merdeka!
This Merdeka season, our Kapsen tyre dealer network is driving affordability to new heights by delivering massive tyre savings for motorists across East Malaysia and giving them renewed freedom to enjoy more journeys with loved ones in utmost assurance!
Our Kapsen "BUY 4, FREE 2" Tyre Promotion currently running nationwide aims at making your every mile count with quality performance and unmatched value which let you achieve total peace of mind that comes from knowing you are prepared for the road ahead.  
Whether you are looking for fuel economy or sporty performance, our Kapsen tyre deal offers five popular choice of passenger car radial (PCR) tyre patterns – Kapsen H201, Kapsen H202, Kapsen HD918, Kapsen K737 and Kapsen K3000 – to meet your preferred driving needs.       
We Keep Your Wheels Turning
We sell a wide range of automotive tyres for compact cars, passenger cars, sedans, sports utility vehicles (SUVs), multi-purpose vehicles (MPVs), 4x4/4-wheel drive (4x4/4WD), ultra-light trucks, pickup trucks, light trucks, lorries and more.
Our network of tyre shop dealers and automotive workshop service centres such as Sunlun Auto Service, Tireman Autocare, Roadkruzer Tyremart, Rightpower Hyundai 3S Service Centre, Maxspeed Automart Mazda 3S Service Centre and Rightpower Ford 3S Service Centre operate throughout East Malaysia including Sibu and Kuching in Sarawak and Kota Kinabalu in Sabah.
Browse our Products or Contact us for more details about our product availability.
About Kapsen
Kapsen tyres are manufactured by Shandong Huasheng Rubber, a Chinese tyre producer with annual capacity of 20 million PCR and 8 million TBR tyres that are widely exported to Europe, America, Middle East, Africa and Oceania. Kapsen is part of tyre brand family including Habilead, Huasheng, Taitong and TerraKing that meet manufacturing quality standards from DOT, ECE, ISO9001, ISO14001, GCC, SONCAP, SASO and more.