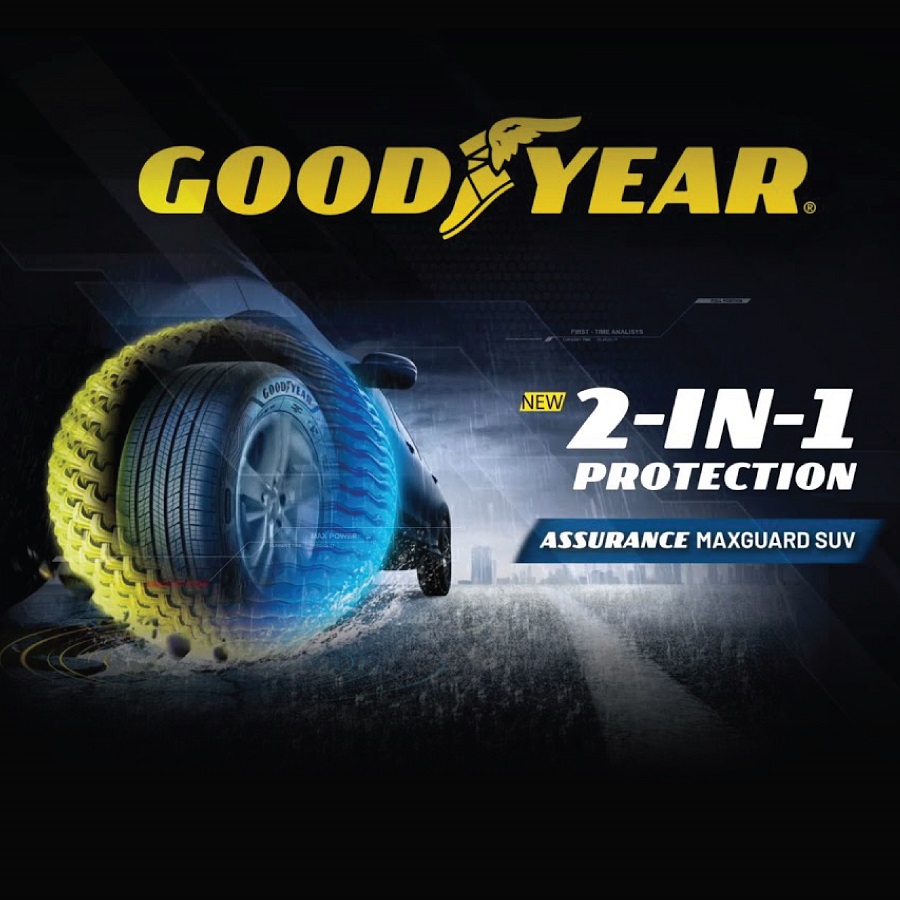 LATEST! Goodyear Assurance Maxguard SUV Tyres
Our new range of Goodyear Assurance Maxguard SUV tyres lets you explore your world of possibilities with 2-in-1 protection powered by Goodyear's advanced ActiveGrip and Duraguard technologies for wherever your journey takes you.  
Available in popular 16" to 19" sizes, the Assurance Maxguard SUV offers assured grip and impact protection that are ideally suited for top-selling SUVs in Sarawak and Sabah including Proton X70, Honda CR-V, Mazda CX-5, Toyota Fortuner and more.
ActiveGrip Protection
The Assurance Maxguard SUV is formulated with ActiveGrip technology's advanced compound and optimized tread design to provide improved grip for faster braking and better handling in wet driving conditions.    
DuraGuard Protection
The Assurance Maxguard SUV incorporates DuraGuard Technology's 2-ply construction and tougher steel belt package for greater durability against cuts and punctures caused by impacts and unexpected road hazards.   
Available Sizes
215/65 R16 for Honda CR-V / Nissan X-Trail etc.
215/70 R16 for Toyota Harrier / Ford Escape etc.
225/60 R17 for Subaru XV / Hyundai Tucson etc.
225/65 R17 for Proton X70 / Mazda CX-5 etc.
265/65 R17 for Toyota Fortuner etc.
215/55 R18 for Proton X50 / Mazda CX-30 etc.
225/50 R18 for Honda HR-V / Toyota Corolla Cross etc.
225/55 R18 for Mitsubishi Outlander / Subaru Forester etc.
225/60 R18 for Toyota RAV4 / Renault Koleos etc.
235/50 R18 for Toyota Alphard / Toyota Vellfire etc.
235/55 R18 for Kia Sportage / Toyota Harrier etc.
235/60 R18 for Lexus RX350 / Audi Q5 etc.
265/60 R18 for Toyota Fortuner / Ford Everest Trend etc.
225/55 R19 for Mazda CX-8 / Proton X70 etc.
235/55 R19 for Mercedes GLC 200 / Volvo XC60 etc.
We Keep Your Wheels Turning
We sell a wide range of automotive tyres for compact cars, passenger cars, sedans, sports utility vehicles (SUVs), multi-purpose vehicles (MPVs), 4x4/4-wheel drive (4x4/4WD), ultra-light trucks, pickup trucks, light trucks, lorries and more.
Our network of tyre shop dealers and automotive service centres such as Sunlun Auto Service, Tireman Autocare, Roadkruzer Tyremart, Rightpower Hyundai 3S Service Centre and Maxspeed Automart Mazda 3S Service Centre operate throughout East Malaysia including Sibu and Kuching in Sarawak and Kota Kinabalu in Sabah.
Browse our Products or Contact us for more details about our product availability.
About Goodyear
Goodyear was founded in Akron, USA in 1898 and is today one of the world's largest tyre companies with annual sales of over USD15 billion. Through global manufacturing facilities in 23 countries and innovation centres in Ohio and Luxembourg, Goodyear develops advanced technology and performance standards to produce a wide range of tyres for consumers, commercial trucks, aviation, off-the-road and motorsport racing.
Links
https://www.goodyear.com.my/tyres/goodyear-assurance-maxguard-suv
Size Compatibility
215/65 R16 GOODYEAR ASSURANCE MAXGUARD SUV
Audi Q3
Honda CR-V (Gen2)
Mazda CX-30
Mitsubishi ASX 2WD
Nissan X-Trail
Perodua Nautica
Toyota Rush 1.5G(M)
215/70 R16 GOODYEAR ASSURANCE MAXGUARD SUV
Ford Escape
Toyota Harrier (Gen1)
225/60 R17 GOODYEAR ASSURANCE MAXGUARD SUV
Dong Feng Glory 580
Hyundai Tucson 2.0L (Elegance/Sport)
Renault Koleos 2.5
Subaru Forester 2.0i-L / XV
225/65 R17 GOODYEAR ASSURANCE MAXGUARD SUV
Honda CR-V 2.0 2WD i-Vtec
Mazda CX-5 (2.0L/2.5L)
Nissan X-Trail (2.0 2WD/2.5 4WD)
Proton X70 Standard 2WD
Suzuki Grand Vitara 2.0 AT
265/65 R17 GOODYEAR ASSURANCE MAXGUARD SUV
Toyota Fortuner (2.5G/2.4AT)
215/55 R18 GOODYEAR ASSURANCE MAXGUARD SUV
Proton X50
Mazda CX-30
225/50 R18 GOODYEAR ASSURANCE MAXGUARD SUV
BMW X1 / Countryman
Honda HR-V 1.8L RS
Mini Cooper S Countryman Pure
Toyota Corolla Cross SUV
225/55 R18 GOODYEAR ASSURANCE MAXGUARD SUV
Mitsubishi Outlander 2.4 Mivec
Peugeot 3008 / 5008 / 5009
Subaru Forester
225/60 R18 GOODYEAR ASSURANCE MAXGUARD SUV
Honda CR-V 2.4
Lexus NX200t / NX300h
Proton X70
Renault Koleos 2.5
Subaru Outback 2.5
Toyota RAV4
235/50 R18 GOODYEAR ASSURANCE MAXGUARD SUV
Audi Q3
Toyota Alphard / Vellfire
235/55 R18 GOODYEAR ASSURANCE MAXGUARD SUV
Audi Q3
Chevrolet Captiva LT 2.0
Kia Sportage 2.2 2WD / Sorento 2.4
Lexus RX330
Toyota Harrier
Volkswagen Tiguan
235/60 R18 GOODYEAR ASSURANCE MAXGUARD SUV
Alfa Romeo Stelvio
Audi Q5
Honda CR-V 1.5TC 2017
Hyundai Santa Fe
Jaguar E-PACE
Kia Sorento
Lexus RX270 / RX350
Volvo XC60
265/60 R18 GOODYEAR ASSURANCE MAXGUARD SUV
Ford Everest 2.0L Trend
Toyota Fortuner
225/55 R19 GOODYEAR ASSURANCE MAXGUARD SUV
Proton X70 Premium
Mazda CX-5 / CX-8
Nissan X-Trail
Renault Koleos Signature
235/55 R19 GOODYEAR ASSURANCE MAXGUARD SUV
Audi Q5
Hyundai Santa Fe CRDI 2.2 Premium
Jaguar E-PACE
Kia Sorento 2.2 HS Diesel
Land Rover Discovery Sport / Range Rover Evoque
Lexus RX Series
Mercedes GLC 200
Porsche Macan
Volvo XC60
* Always refer to your vehicle manual for specifications in your region