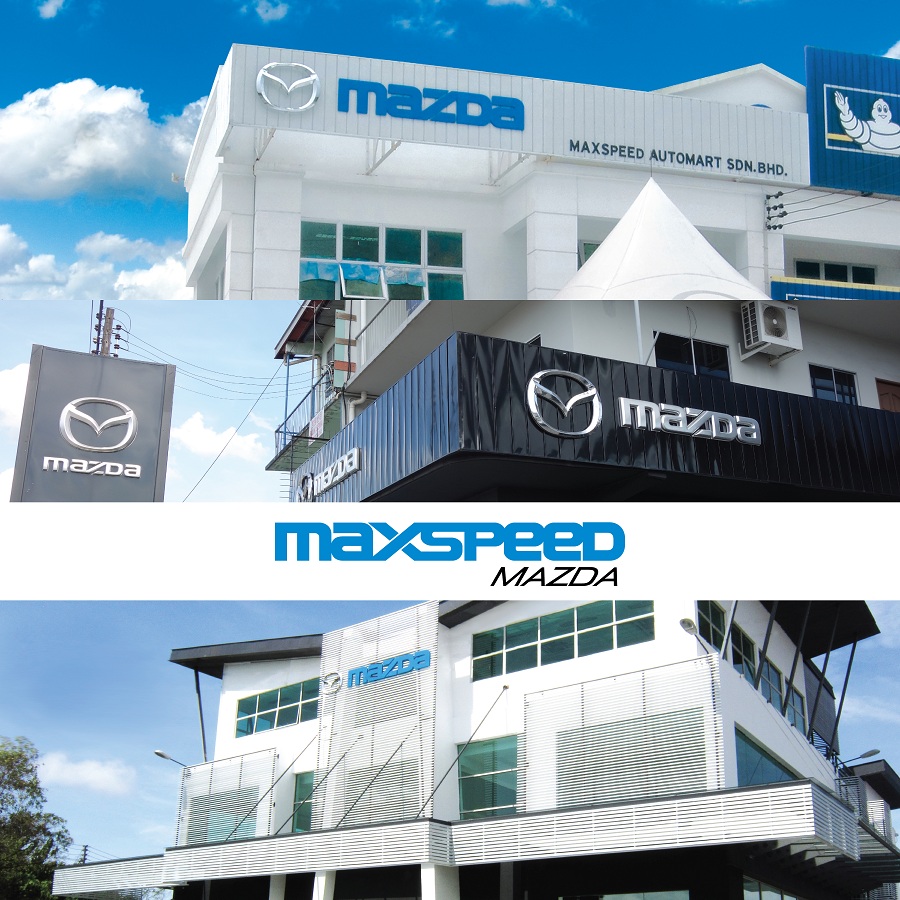 Maxspeed Automart – Mazda 3S Dealer in Sarawak & Sabah
Mazda Zoom-Zoom
Maxspeed Automart Sdn Bhd is an authorized East Malaysia Mazda service, spare parts and sales (3S) dealer operating in Sibu & Kuching, Sarawak and Kota Kinabalu, Sabah in East Malaysia. It is a member of SUNLUN Group's Retail Division – a network of retail tyre, automotive service centres and automotive dealerships established since 1980s throughout Sarawak and Sabah, East Malaysia.
Our Auto Products & Services
Maxspeed Automart Sdn Bhd is manned by dedicated technical and retail teams and equipped with modern automotive workshop equipments and car service facilities to provide convenient one-stop Mazda aftersales service such as: 
Mazda scheduled and preventative car maintenance minor/major servicing
Genuine Mazda spare parts for periodic and preventative services and repair
Tyres and services for tyre changing, tyre balancing, tyre rotation, wheel alignment and more
Lubricants/Motor Oils for engines, gear boxes, transmissions, brakes and more
Mazda car insurance and road tax renewal services
Mazda car insurance accident claim services
Mazda car collision parts and repair
From passenger cars to multi-purpose vehicles, we serve the range of Mazda vehicles in Malaysia such as Mazda2, Mazda3, Mazda5, Mazda6, Mazda8, CX3, CX5, CX7, CX9, MX5, RX8, BT50, B2200, B2500, Biante, Premacy and Fighter.
Our Brand Partners
Maxspeed Automart Sdn Bhd also carries reputable global and local brands to offer the best products to Hyundai motorists such as:
Genuine Mazda spare parts
Shell Lubricants
Goodyear tyres
Michelin tyres
BF Goodrich tyres
Hankook tyres
Deestone tyres
Bluechem car care additives
SPC Lubricants and more
We are honoured to welcome all Sibu, Kuching and Kota Kinabalu motorists to Maxspeed Automart Sdn Bhd for your next Mazda aftersales car service or tyre replacement!
Maxspeed Automart Sdn Bhd (Sibu)
Address: Sunlun Auto Service, No. 77A-C, Jalan Lanang, 96000 Sibu, Sarawak, East Malaysia
Telephone: +6 (084) 328 124
Fax: +6 (084) 339 118
Operating Hours: 8.00am-5.30pm (Mon-Sat) except Public Holidays
Maxspeed Automart Sdn Bhd (Kuching)
Address: Tireman Autocare, Lot 6, Hakka Avenue Estate, Mile 5 Jalan Penrissen, 93250 Kuching, Sarawak, East Malaysia
Telephone: +6 (082) 575 068
Fax: +6 (082) 575 068
Operating Hours: 8.00am-5.30pm (Mon-Sat) except Public Holidays
Maxspeed Automart Sdn Bhd (Donggongon)
Address: Maxspeed Mazda Building, Bulatan Sigah, Jalan Penampang, 88300 Penampang, Kota Kinabalu, Sabah, East Malaysia
Telephone: +6 (088) 728 585
Fax: +6 (088) 728 080
Operating Hours: 8.00am-5.30pm (Mon-Sat) except Public Holidays
Related link
www.mazda.com.my
www.sunlun.com.my