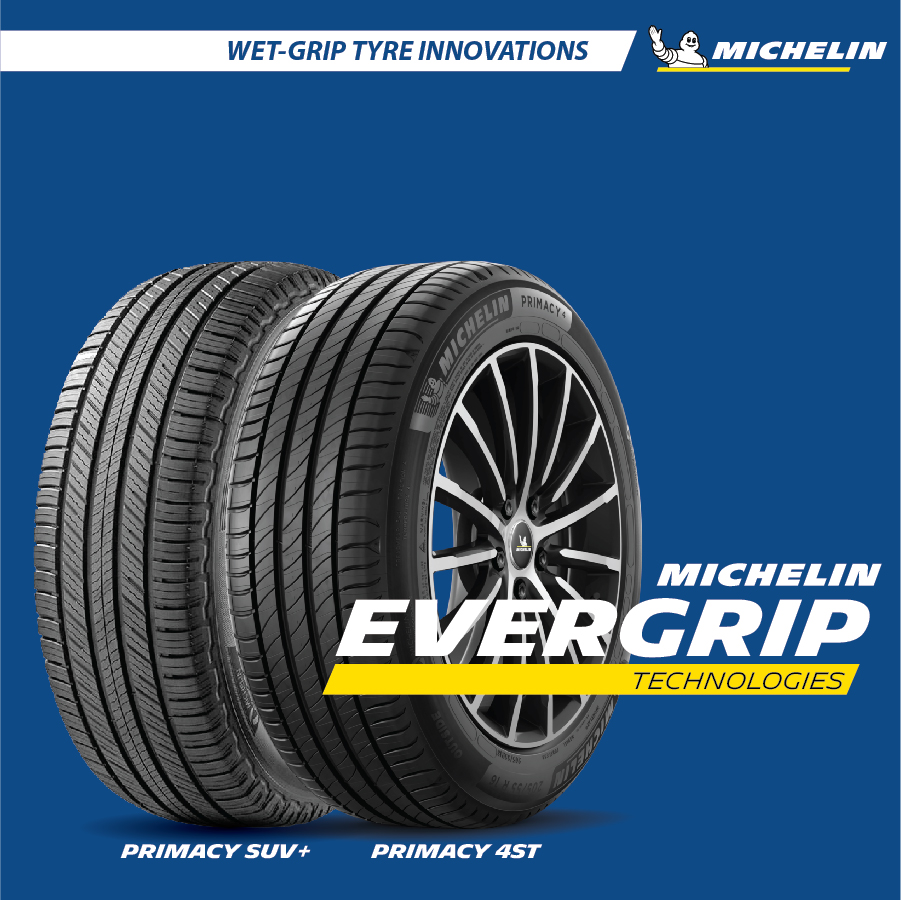 Michelin Primacy's EVERGRIP Technology Boosts Wet Grip
Michelin's EVERGRIP Technology introduces a suite of tyre architecture innovations centred around high-traction compound and optimized sculpture design that enable tyres to maintain outstanding wet grip both when new and when worn down inevitably over time.  
Recognized with the acclaimed "Tire Technology of the Year" award, EVERGRIP Technology's validated capabilities are proudly featured in the Michelin Primacy 4 ST and Michelin Primacy SUV+ range of tyres to ensure safer driving particularly in wet weather conditions. 
MICHELIN PRIMACY 4 ST
The Primacy 4 ST incorporates Michelin EVERGRIP Technologies to deliver shorter wet braking averagely by 2.3m when new and 5.2m when worn via increased volume in the tread for effective water drainage as well as flexible road contact for optimized grip. 
Available in 15" to 20" passenger car radial (PCR) tyre sizes for Honda Civic, Toyota Corolla, Nissan Sylphy, Hyundai Ioniq, Proton Exora, Toyota Avanza and many more.  
MICHELIN PRIMACY SUV+
The Primacy SUV+ integrates Michelin EVERGRIP Technologies to offer quicker wet braking by 3.3m when new and 4.2m when worn through U-shaped grooves with full-depth sipes for efficient water clearance as well as new rubber compound for enhanced traction.   
Available in 16" to 20" sports utility vehicle (SUV) tyre sizes for Proton X70, Toyota Rush, Nissan X-Trail, Mazda CX-5, Honda CR-V, Volvo XC60, Lexus RX350 and many more. 
We Keep Your Wheels Turning
We sell a wide range of automotive tyres for compact cars, passenger cars, sedans, sports utility vehicles (SUVs), multi-purpose vehicles (MPVs), 4x4/4-wheel drive (4x4/4WD), ultra-light trucks, pickup trucks, light trucks, lorries and more.
Our network of tyre shop dealers and automotive workshop service centres such as Sunlun Auto Service, Tireman Autocare, Roadkruzer Tyremart, Rightpower Hyundai 3S Service Centre, Maxspeed Automart Mazda 3S Service Centre and Rightpower Ford 3S Service Centre operate throughout East Malaysia including Sibu and Kuching in Sarawak and Kota Kinabalu in Sabah.
Browse our Products or Contact us for more details about our product availability.
About Michelin
Michelin is a global tyre manufacturer founded in 1889 that consistently ranks as one of the world's most valuable tyre brand with annual revenue exceeding 20 billion euros. From tyres and high-tech materials to mobility solutions, Michelin develops innovative products through 9 worldwide R&D centres with 127 production facilities in 26 countries and commercial presence in 170 countries.
Links
https://www.michelin.com.my/auto/tyres/michelin-primacy-4-st
https://www.michelin.com.my/auto/tyres/michelin-primacy-suv-plus
http://bwautoworld.businessworld.in/article/Michelin-Introduces-The-New-...
https://paultan.org/2022/05/24/new-michelin-primacy-suv-tyre-launched-in...