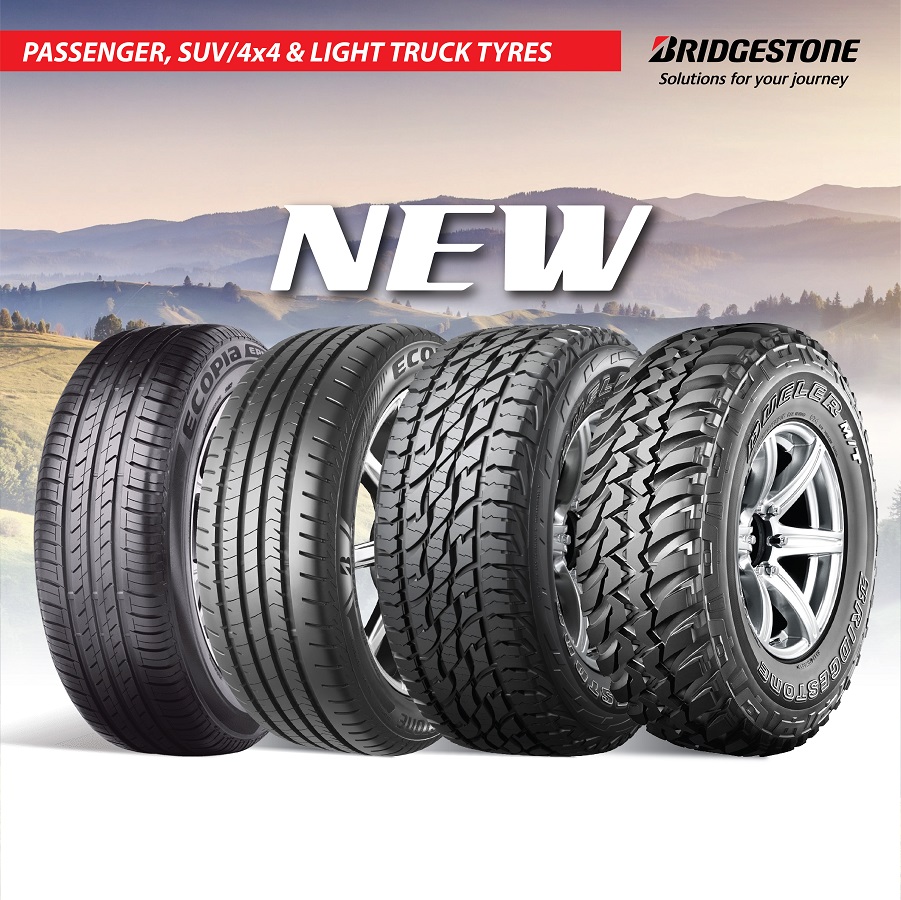 NEW! Bridgestone Passenger, SUV/4x4 & Light Truck Tyres
Rely on the best solutions for your journey in New Year 2022 with our newest range of Bridgestone passenger car radial (PCR), SUV/4x4 and light/ultra-light truck (LT/ULT) tyres in Sarawak and Sabah, East Malaysia.
Bridgestone is Japan's premier tyre brand renowned for breakthrough innovations – from fuel-efficient tyres to next-gen run-flat tyres (RFT) – that sparked the company's rise to become the Top 5 largest tyre manufacturer in the world.  
Defined by 90 years of global growth, Bridgestone tyres are driven today in more than 150 countries with approximately 130,000 tyres tested annually across North America, South America, Europe and Asia to ensure best quality performance in each market.
Bridgestone's partnerships with major automotive manufacturers such as Mercedes, BMW, Porsche, Ferrari and Lamborghini further showcase its technological ability to craft OEM tyres that are fine-tuned to match premium vehicle standards.    
BRIDGESTONE PASSENGER (PCR) TYRES
Available in 12" to 21" sizes
ECOPIA EP150 / EP300
POTENZA ADRENALIN RE004
POTENZA RE080 / S001 / S001 RFT / RE070
TECHNO
TURANZA ER33 / ER33 RFT
TURANZA ER30 / ER300 / ER370
TURANZA T001 / T001 RFT
TURANZA T005A / T005 / T005 RFT
BRIDGESTONE SUV/4x4 TYRES
Available in 15" to 22" sizes
ALENZA 001 / 001 RFT / H/L33
DUELER DHPS / DHPA RFT
DUELER A/T 001 / A/T 697
DUELER H/L 33 / H/L 33A / H/L 400
DUELER H/P 92A / H/T 470 / H/T 684
DUELER H/T 687 / H/T 689 / H/T 840
DUELER M/T 674
ECOPIA H/L 001 / H/L422
BRIDGESTONE LIGHT TRUCK TYRES
Available in 13" to 17.5" sizes
DURAVIS R205
R200 / R202 / R210 / R294
R613 / R623 / R624
VSJA / V-STEEL LUG 301 / V-STEEL RIB 230
Browse our Products or Contact our tyre dealers and auto service centres in Sibu and Kuching, Sarawak and Kota Kinabalu, Sabah in East Malaysia for more details on Bridgestone tyres.
About Bridgestone
Bridgestone is one of the world's largest tyre manufacturer and original equipment (OE) supplier for major automotive brands such as Mercedes, BMW, Porsche, Ferrari and Lamborghini. Founded in Kurume, Japan in 1931, Bridgestone develops innovative tyre, mobility and diversified technologies with business presence in more than 150 countries supported by about 180 manufacturing/R&D facilities globally.