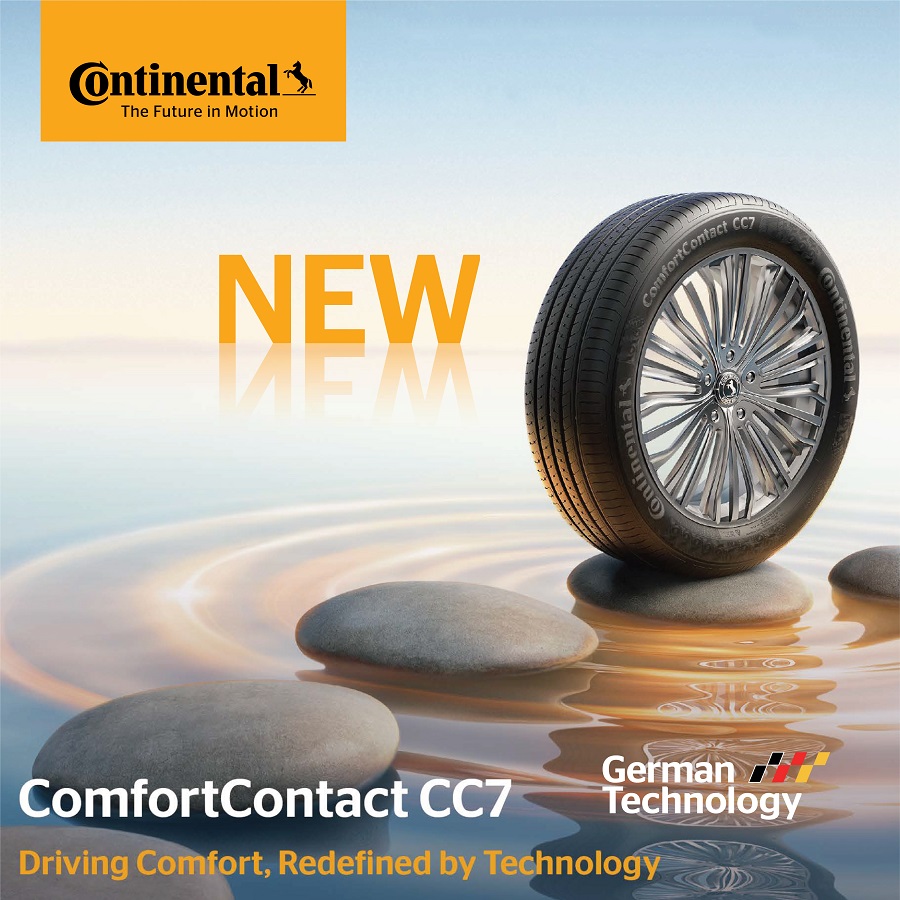 NEW! Continental ComfortContact CC7 Passenger Car Tyres
Experience "zen for the journey, comfort for the road" with new Continental ComfortContact CC7, the latest Gen-7 tyre powered by Continental's Comfort+ Technology that is the ideal fit for popular vehicles such as Perodua Axia, Proton Saga, Toyota Vios, Honda City and more.  
The ComfortContact CC7 range of 14" to 16" passenger car radial (PCR) tyres feature 3 key "Z.E.N" attributes – Zero Shock Pattern, EverFlex Compound and Noise Muter – to deliver comfort-focused tyres that offer smooth, peaceful ride for motorists in Sarawak and Sabah. 
Z – Zero Shock Pattern
The Continental ComfortContact CC7 provides superior rolling comfort by adapting to bumpy driving conditions and minimizing tyre vibrations through its unique zero-shock tread pattern design with continuous rib structure/sipes and special compound softener additives. 
E – EverFlex Compound 
The Continental ComfortContact CC7 extends tyre mileage by employing EverFlex compound comprised of polymer-bonds within a strong sulfur network to produce all-season durability against daily wear and tear in a variety of temperature range and weather conditions.        
N – Noise Muter
The Continental ComfortContact CC7 promotes harmonic sound comfort by employing Noise Breaker 3.0 elements within tread grooves to create Helmholtz Resonator sound-dampening chambers where air waves are drawn in and noise frequencies are absorbed before exiting.      
Available Sizes
175/65 R14 82H CONTINENTAL COMFORTCONTACT CC7
185/60 R15 84H CONTINENTAL COMFORTCONTACT CC7
185/55 R15 82V CONTINENTAL COMFORTCONTACT CC7
205/55 R16 91V CONTINENTAL COMFORTCONTACT CC7
We Keep Your Wheels Turning
We sell a wide range of automotive tyres for compact cars, passenger cars, sedans, sports utility vehicles (SUVs), multi-purpose vehicles (MPVs), 4x4/4-wheel drive (4x4/4WD), ultra-light trucks, pickup trucks, light trucks, lorries and more.
Our network of tyre shop dealers and automotive workshop service centres such as Sunlun Auto Service, Tireman Autocare, Roadkruzer Tyremart, Rightpower Hyundai 3S Service Centre, Maxspeed Automart Mazda 3S Service Centre and Rightpower Ford 3S Service Centre operate throughout East Malaysia including Sibu and Kuching in Sarawak and Kota Kinabalu in Sabah.
Browse our Products or Contact us for more details about our product availability.
About Continental
Continental is one of the world's leading tyre manufacturer and original equipment (OE) supplier that produces a wide range of high-quality mobility products from high-performance tyres to innovative light trucks solutions. Founded in Hanover, Germany in 1871, Continental develops industry-recognized pioneering technologies for safe, efficient, intelligent and affordable applications with a current global team of over 240,000 employees in 61 countries.
Links
https://www.continental-tires.com/my/en/b2c/car/tyres/comfortcontact-cc7...
Size Compatibility
175/65 R14 82H CONTINENTAL COMFORTCONTACT CC7
Fiat 500 / Doblo
Honda City / Jazz
Hyundai i10
Perodua Axia / Bezza / Myvi / Alza
Proton Iriz / Persona / Saga
Toyota Vios
185/55 R15 82V CONTINENTAL COMFORTCONTACT CC7
Fiat 500 / Panda
Honda City / Jazz
Mitsubishi Attrage / Mirage G4
Perodua Alza / Myvi / Axia / Bezza 
Proton Persona / Saga / Iriz / Satria / Wira
Toyota Vios
185/60 R15 84H CONTINENTAL COMFORTCONTACT CC7
Honda City / Jazz
Suzuki Swift
Toyota Vios / Sienta / Prius C / Yaris
Volkswagen Polo / Hatchback / Vento
205/55 R16 91V CONTINENTAL COMFORTCONTACT CC7
BMW 3 Series
Daimler C Class
Honda Civic
Hyundai Elantra
Kia Forte
Lexus CT200h
Mazda 5
Mercedes A200
Nissan Serena / Leaf / Almera Turbo (VLP/VLT)
Proton Preve / Exora
Toyota Corolla Altis
Volkswagen New Beetle / Golf / Jetta / Passat / Touran
* Always refer to your vehicle manual for specifications in your region