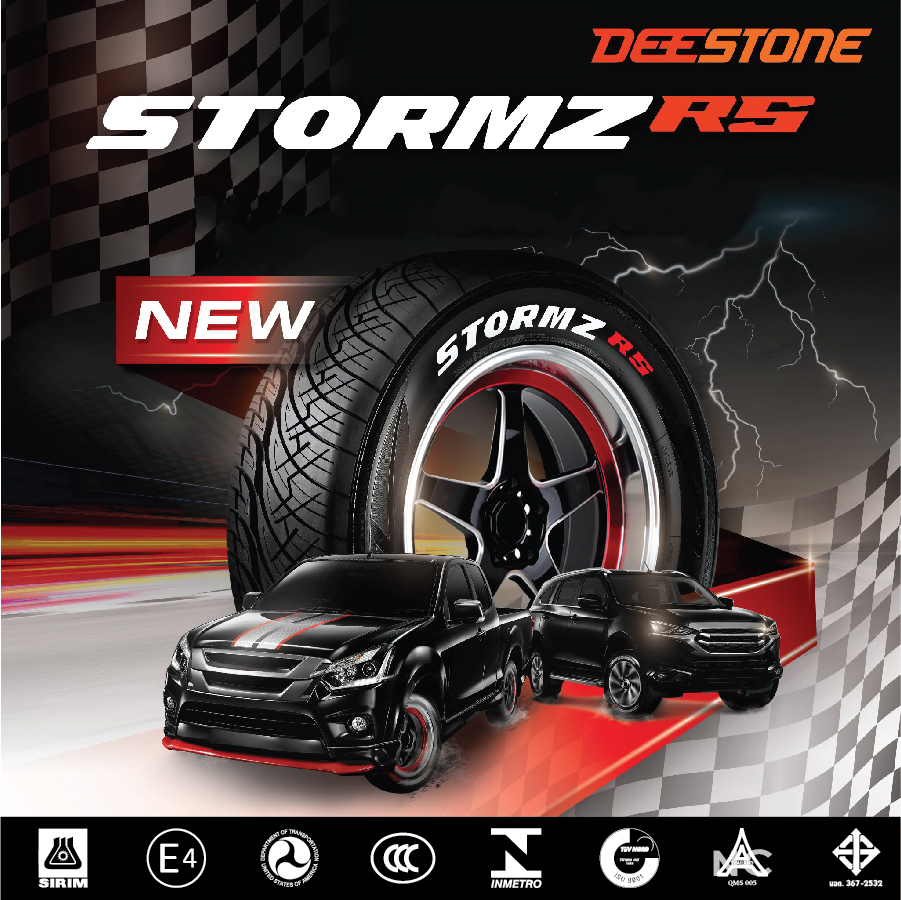 NEW! Deestone Stormz RS Tyres for 4x4s/SUVs
Introducing the new Deestone Stormz RS – the latest range of 18" and 20" 4x4/SUV extra-load (XL) tyres designed for motorsport enthusiasts who enjoy customizing their ride to stand out from the crowd while maintaining a firm grip in the fast lane whatever the weather.
Inspired by racing performance design, the Stormz RS is a tough yet sporty tyre with distinctive asymmetric tread and bold sidewall pattern that lets you exude stylish confidence behind the wheels of your Isuzu D-Max, Toyota Fortuner, Mitsubishi Triton, Ford Everest and more.
Sporty Handling
The Deestone Stormz RS incorporates a sporty asymmetric tread pattern that enhances road surface contact for confident handling especially on sharp corners or straight lanes, as well as provide outstanding grip performance in both wet and dry driving conditions.    
Distinctive Sidewall
The Deestone Stormz RS features a unique sidewall design comprised of distinctive colored lettering using specially-mixed pigments with Multiple Layers Adhesive Rubber technology to ensure long-lasting adhesion and effective prevention of peeling/contamination.         
Wet Grip
The Deestone Stormz RS combines large continuous main groove pattern with additional tyre siping across the tread that deliver safer and efficient drainage by enabling quick evacuation of water in all directions to minimize the risk of hydroplaning during wet weather.       
Ride Comfort
The Deestone Stormz RS integrates special design elements to reduce the transmission of tyre noise including optimization of the alignment of the tread pattern which is able to decrease soundwaves produced when driving on straight or bumpy roads at different speeds.    
Available Sizes
255/50 R18 106V XL DEESTONE STORMZ RS
255/55 R18 109V XL DEESTONE STORMZ RS
265/60 R18 114V XL DEESTONE STORMZ RS
265/50 R20 111V XL DEESTONE STORMZ RS
We Keep Your Wheels Turning
We sell a wide range of automotive tyres for compact cars, passenger cars, sedans, sports utility vehicles (SUVs), multi-purpose vehicles (MPVs), 4x4/4-wheel drive (4x4/4WD), ultra-light trucks, pickup trucks, light trucks, lorries and more.
Our network of tyre shop dealers and automotive workshop service centres such as Sunlun Auto Service, Tireman Autocare, Roadkruzer Tyremart, Rightpower Hyundai 3S Service Centre, Maxspeed Automart Mazda 3S Service Centre and Rightpower Ford 3S Service Centre operate throughout East Malaysia including Sibu and Kuching in Sarawak and Kota Kinabalu in Sabah.
Browse our Products or Contact us for more details about our product availability.
About Deestone
Deestone was founded in Thailand in 1977 and is today, the country's largest Thai-owned tyre production facility with international distribution in more than 120 countries worldwide. Deestone manufactures a wide segment of quality tyres to meet market-specific requirements with high production standards and global certifications including ISO, DOT, E-mark, TUV NORD, SIRIM, MS and more.
Links
https://www.deestone.com/Tyre-Search/Radial/RADIAL-PCR-UHP/Stormz-RS.asp...
Size Compatibility
255/50 R18 106V XL DEESTONE STORMZ RS
Land Rover Discovery 3
Mercedes-Benz S-Class
255/55 R18 109V XL DEESTONE STORMZ RS
Audi Q7
BMW X5 / X6
Land Rover Discovery 2 / Range Rover Sport
Mercedes-Benz ML350
Porsche Cayenne / Macan
Volkswagen Touareg
265/60 R18 114V XL DEESTONE STORMZ RS
Chevrolet Colorado LTZ
Ford Ranger / Everest Trend / F-150
Isuzu D-Max
Jeep Grand Cherokee Limited / Night Eagle / Trailhawk
Mazda BT-50
Mercedes G350d / G500
Mitsubishi Triton / Pajero / Exceed
Nissan Frontier
Toyota Hilux Double Cab / Fortuner / Land Cruiser / Prado
265/50 R20 111V XL DEESTONE STORMZ RS
Ford Everest 2.0L Titanium AWD AT
Jeep Grand Cherokee Jet / Limited / Overland / Summit
Toyota Fortuner Legender 2.4L Diesel 2WD A/T
* Always refer to your vehicle manual for specifications in your region