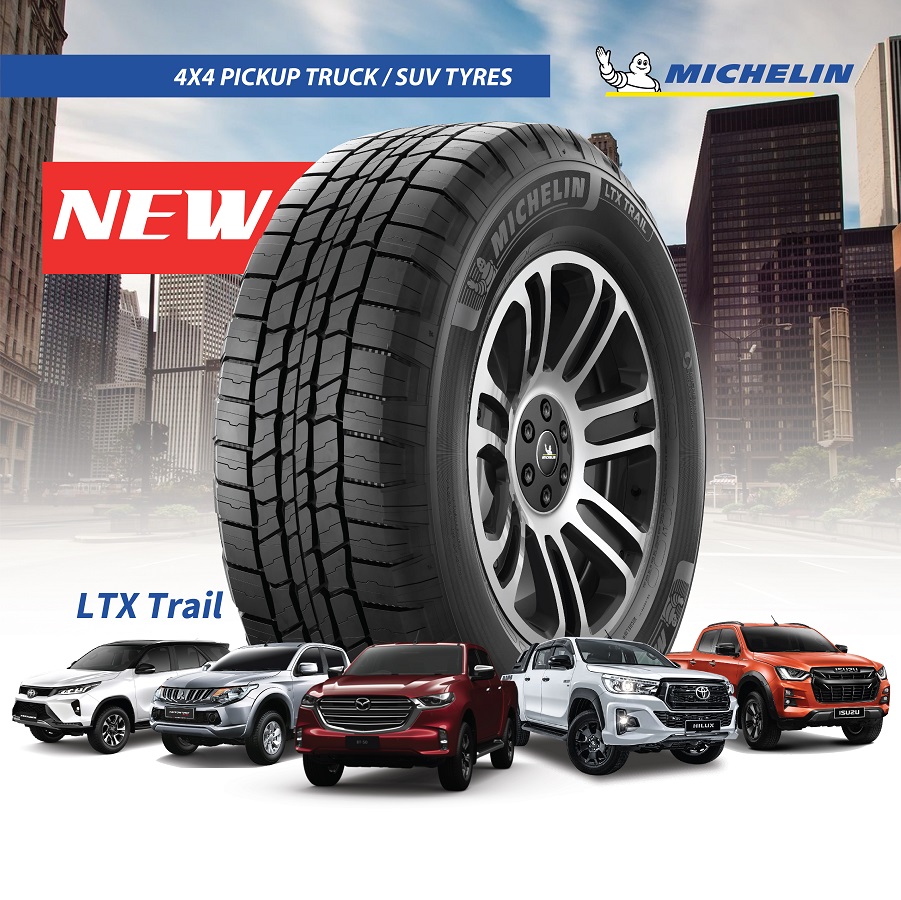 NEW! Michelin LTX Trail Tyres for 4x4 Pickup Trucks & SUVs
Take on highways and trails with all-new Michelin LTX Trail, the rugged 15" to 18" 4x4/SUV tyres offering proven safety and long-lasting performance for utility pickup trucks and SUVs such as Toyota Hilux, Toyota Fortuner, Isuzu D-Max, Mitsubishi Triton and more.
Designed to suit versatile driving, the LTX Trail enables motorists in Sarawak and Sabah to handle both city commutes and road trips comfortably with Michelin's innovative design that allows for safer wet braking even when worn and better on and off-road durability.
Better Treadlife
The LTX Trail's RallyForce2 tread compound extends service life by up to 41% longer against competing brands while specially-designed treadblocks resist cuts/chips on tough terrain.
Improved Braking
The LTX Trail can stop shorter by up to 3.1m shorter when new and up to 4.6m when worn compared to competing brands by incorporating variable thickness sipes with hundreds of biting edges for safer braking. 
Silent Tread
The LTX Trail reduces interior noise by 19.8% through Michelin's Duo-Harmony Blocks comprising 2 different centre block designs that diffuse pattern noise over a wider spectrum.
Tough Sidewall
The LTX Trail is designed with durable sidewall to protect against splitting/punctures as well as biting shoulder design that wraps from the tread to the sidewall to shield against impacts on paved/unpaved roads.    
Available Sizes
225/70 R15 for Ford Ranger etc.
235/75 R15 for Isuzu D-Max / Mazda BT-50 etc.
255/70 R15 for Toyota Hilux etc.
265/70 R15 for Nissan Navara etc.
245/70 R16 for Mitsubishi Triton / Ford Ranger etc.
265/70 R16 for Toyota Fortuner / Nissan Frontier etc.
265/65 R17 for Mazda BT-50 / Toyota Hilux etc.
265/60 R18 for Isuzu D-Max / Mitsubishi Triton etc.
285/60 R18 for Toyota Land Cruiser etc.
We Keep Your Wheels Turning
We sell a wide range of automotive tyres for compact cars, passenger cars, sedans, sports utility vehicles (SUVs), multi-purpose vehicles (MPVs), 4x4/4-wheel drive (4x4/4WD), ultra-light trucks, pickup trucks, light trucks, lorries and more.
Our network of tyre shop dealers and automotive service centres such as Sunlun Auto Service, Tireman Autocare, Roadkruzer Tyremart, Rightpower Hyundai 3S Service Centre, Maxspeed Automart Mazda 3S Service Centre and Rightpower Ford 3S Service Centre operate throughout East Malaysia including Sibu and Kuching in Sarawak and Kota Kinabalu in Sabah.
Browse our Products or Contact us for more details about our product availability.
About Michelin
Michelin is a global tyre manufacturer founded in 1889 that consistently ranks as one of the world's most valuable tyre brand with annual revenue exceeding 20 billion euros. From tyres and high-tech materials to mobility solutions, Michelin develops innovative products through 9 worldwide R&D centres with 127 production facilities in 26 countries and commercial presence in 170 countries.
Links
https://www.michelin.com.my/auto/tyres/michelin-ltx-trail
Size Compatibility
225/70 R15 MICHELIN LTX TRAIL
Ford Ranger
235/75 R15 MICHELIN LTX TRAIL
Chevrolet Blazer / Tahoe / Colorado
Dodge Dakota
Ford Ranger Old Model / Explorer
GMC Canyon
Honda Passport
Isuzu D-Max
Jeep CJ5-CJ7
JMC Baowei
Mahindra Bolero Camper
Mazda BT-50
Mitsubishi Pajero
Nissan Frontier
Suzuki Equator
255/70 R15 MICHELIN LTX TRAIL
Toyota Hilux
265/70 R15 MICHELIN LTX TRAIL
Mitsubishi Pajero
Nissan Frontier / Navara
Toyota Land Cruiser Prado
245/70 R16 MICHELIN LTX TRAIL
Chevy Trail Blazer
Dodge Dakota / Durango
Ford Explorer / Ranger
Foton Bison Savanna
GM Canyon
Honda Passport
Isuzu D-Max / MU-X / Trooper / Rodeo
Jeep Grand Cherokee
Kia Sorrento
Mazda BT-50
Mitsubishi Triton / Pajero Sport / Raider
Nissan Navara / Pathfinder
Toyota Tundra / Sequoia
265/70 R16 MICHELIN LTX TRAIL
Dodge Dakota
Ford F-150 4WD
Mitsubishi Triton / L200 / Pajero / Montero / Raider
Nissan Frontier / NP300 / Navara / Xterra
Suzuki Equator
Toyota Hilux / Fortuner / Tacoma
Toyota Land Cruiser / Prado / Sequoia
265/65 R17 MICHELIN LTX TRAIL
Chevy Colorado
Dodge Dakota
Ford Ranger
GMC Canyon
Lexus GX470
Mazda BT-50
Mitsubishi Triton / Pajero Sport VGT / Montero / Raider
Nissan Frontier / Navara / Pathfinder / Xterra
Suzuki Equator
Toyota Hilux Double Cab / Fortuner 4x4 AT
Toyota Land Cruiser / 4-Runner
265/60 R18 MICHELIN LTX TRAIL
Ford Ranger / Everest Trend
Isuzu D-Max
Mazda BT-50
Mitsubishi Triton / Pajero
Nissan Frontier
Toyota Hilux Double Cab / Fortuner / Land Cruiser
285/60 R18 MICHELIN LTX TRAIL
Ford Ranger Inch-Up
Toyota Land Cruiser
* Always refer to your vehicle manual for specifications in your region