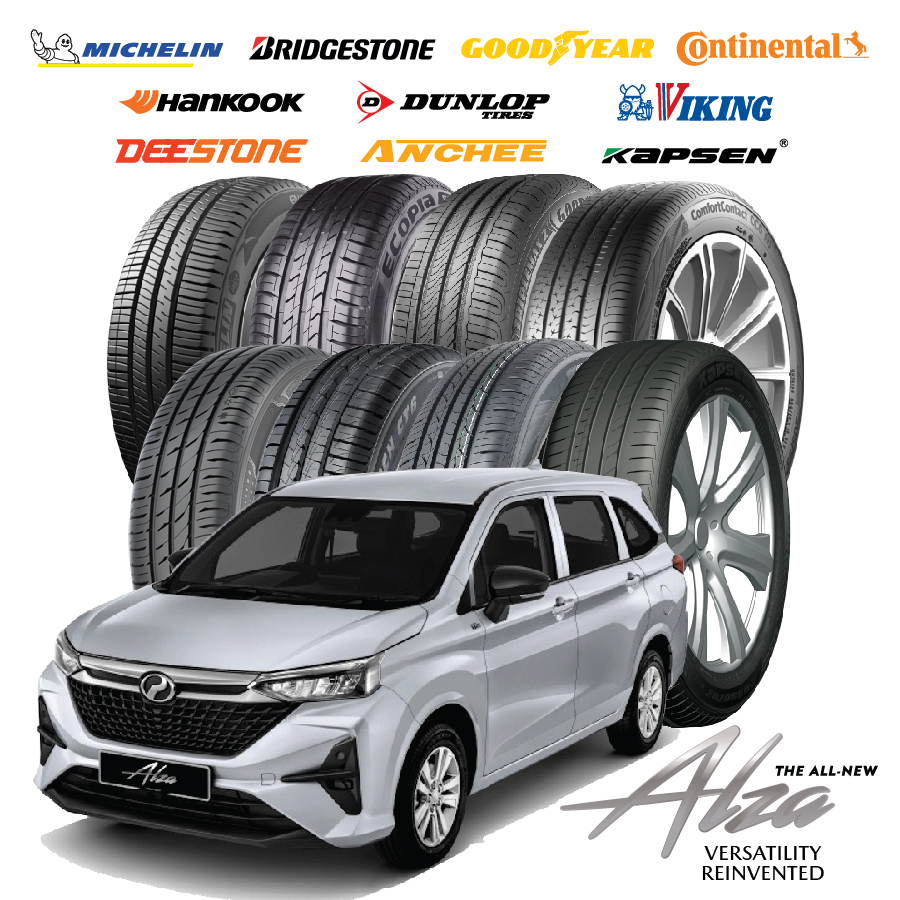 Reinventing Versatility with Best Choice of Perodua Alza Tyres
Discover versatility reinvented in your All-New Perodua Alza MPV with brand new tyres that let you live out your modern family lifestyle to the fullest.  
Wherever you are off to and whatever you are up to, experience a whole new journey of possibilities offered by our best choice of Perodua Alza tyres from Michelin, Bridgestone, Goodyear, Continental, Hankook, Dunlop, Viking, Deestone, Anchee and Kapsen: 
All-New Perodua Alza 1.5L AV (D-CVT) – 16" Tyres
All-New Perodua Alza 1.5L H (D-CVT) – 16" Tyres
OEM Tyre Size: 195/60 R16
195/60 R16 MICHELIN ENERGY XM2+
195/60 R16 MICHELIN PRIMACY 4 ST
195/60 R16 BRIDGESTONE ECOPIA EP150
195/60 R16 GOODYEAR ASSURANCE TRIPLEMAX
195/60 R16 DUNLOP FORMULA D06
195/60 R16 VIKING PROTECH PT6
195/60 R16 ANCHEE AC808
195/60 R16 KAPSEN H202
195/60 R16 KAPSEN K737
All-New Perodua Alza 1.5L X (D-CVT) – 15" Tyres
OEM Tyre Size: 185/65 R15
185/65 R15 MICHELIN ENERGY XM2+
185/65 R15 BRIDGESTONE ECOPIA EP150
185/65 R15 GOODYEAR ASSURANCE TRIPLEMAX 2
185/65 R15 CONTINENTAL COMFORTCONTACT CC6
185/65 R15 HANKOOK K435
185/65 R15 DUNLOP SP SPORT J6
185/65 R15 VIKING CITYTECH CT6
185/65 R15 DEESTONE VINCENTE R203
185/65 R15 DEESTONE PREMIUM TOURER RA01
185/65 R15 ANCHEE AC808
185/65 R15 KAPSEN K737
We Keep Your Wheels Turning
We sell a wide range of automotive tyres for compact cars, passenger cars, sedans, sports utility vehicles (SUVs), multi-purpose vehicles (MPVs), 4x4/4-wheel drive (4x4/4WD), ultra-light trucks, pickup trucks, light trucks, lorries and more.
Our network of tyre shop dealers and automotive workshop service centres such as Sunlun Auto Service, Tireman Autocare, Roadkruzer Tyremart, Rightpower Hyundai 3S Service Centre, Maxspeed Automart Mazda 3S Service Centre and Rightpower Ford 3S Service Centre operate throughout East Malaysia including Sibu and Kuching in Sarawak and Kota Kinabalu in Sabah.
Browse our Products or Contact us for more details about our product availability.