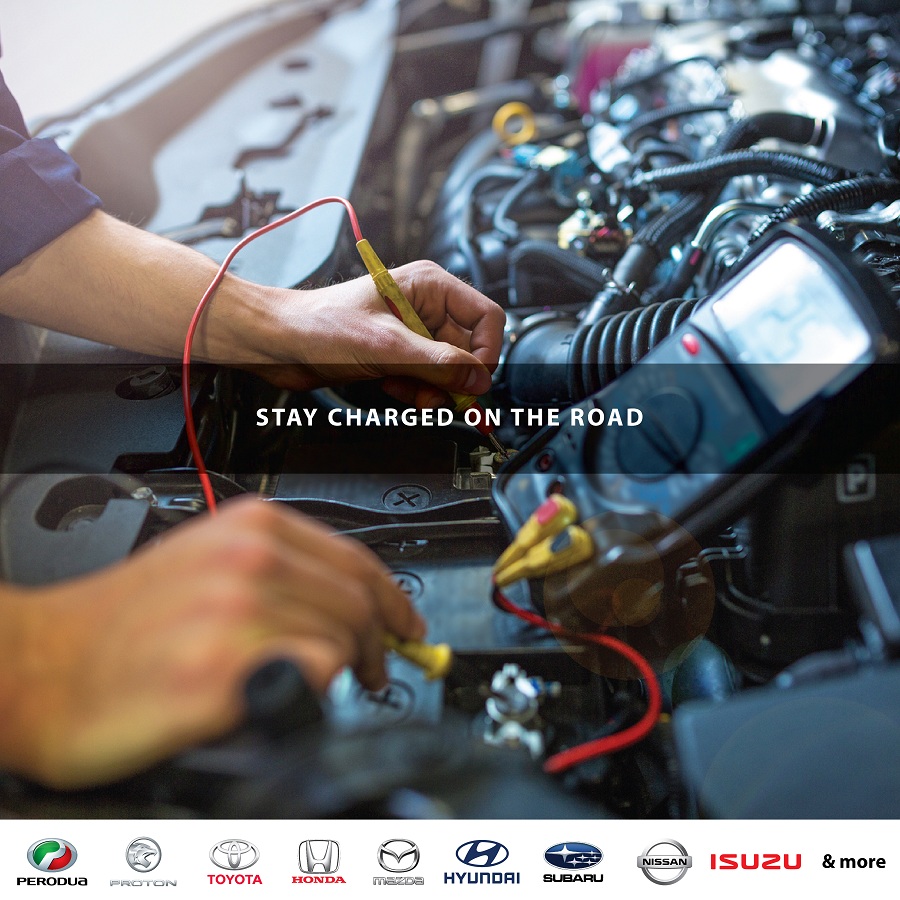 Stay Charged on The Road with Car Battery Care
Did you know that you can keep your car battery running longer and optimize its lifespan with simple battery care awareness? The best thing is that for the most part, you don't even have to pop open your car bonnet to do so.
How long your car battery lasts not only depends on the battery age and condition but also on individual driving habits. So, the next time you're on your daily commute, keep these tips in mind to help you stay charged on the road.
Switch Off
Always check all your car lights are switched off, car engine is turned off and car doors are closed and locked after parking and exiting your car.
 
Shaded Parking
Whenever possible, park your car in the shade to avoid hot weather as high temperatures can affect car battery performance and shorten its life.
 
Sufficient Driving
Drive for a sufficient amount of time and minimize short trips less than 20 minutes to allow your car battery to be fully recharged by the alternator.    
 
Stop Battery Drain
Avoid using your car lights, audio, air-con and other electrical/electronic accessories when your car engine is turned off to stop draining the battery. 
However, if you do find yourself needing to check your car battery under the bonnet, we are ready to assist you.
Let Us Keep Your Wheels Turning
From passenger cars to SUVs and light trucks, our automotive workshops provide car battery services including battery inspections and tests as well as maintenance-free (MF/Dry) and conventional (wet) battery replacements from trusted brands such as Century and Yokohama for a wide range of popular vehicle brands:

NS40ZL
Perodua / Proton / Toyota / Honda etc. (refer below)

NX120-7L
Ford / Isuzu / Mitsubishi etc. (refer below)

NX120-7
Toyota / Hino / Nissan / Hyundai etc. (refer below)

NS70L
Toyota / Nissan / Hyundai / Mazda etc. (refer below)

NS60
Toyota / Honda etc. (refer below)

NS60L
Toyota / Honda / Nissan etc. (refer below)

NS70
Toyota / Hyundai etc. (refer below)

55D23L
Mazda / Hyundai / Kia / Subaru / Toyota etc. (refer below) 

DIN55L
Hyundai / Kia etc. (refer below)

Other Sizes
115D23L / 90D23L / DIN55 / DIN65L / DIN65R / DIN66 / DIN66L / DIN75L / DIN80D23L / DIN88L / N100 / N120 / N150 / NS40Z / NS60A / NS60AL / Q85 etc.
Our network of tyre dealers and automotive service centres such as Sunlun Auto Service, Tireman Autocare, Roadkruzer Tyremart, Rightpower Hyundai 3S Service Centre and Maxspeed Automart Mazda 3S Service Centre operate throughout East Malaysia including Sibu and Kuching in Sarawak and Kota Kinabalu in Sabah.
Contact us or find our nearest centre for your car battery needs.   
Size Reference
NS40ZL
Chevrolet (Spark)
Daihatsu (Charade, Mira, Espri)
Ford (Laser, Escort, Spectron)
Honda (BRV, City, Civic, Jazz)
Hyundai (Atos)
Naza (Sutera, Suria)
Perodua (Alza, Axia, Bezza, Kancil, Kelisa)
Perodua (Kembara, Kenari, Myvi, Viva)
Proton (Ertiga, Juara)
Toyota (Altis, Corolla, Prius, Rush) etc.
NX120-7L
Ford (Ranger)
Isuzu (Dmax)
Mitsubishi (Triton, Pajero)
Nissan (Navara) etc.
NX120-7
Daihatsu (Rocky)
Datsun (Pickup)
Ford (Ranger, Econovan 2200, Pickup VT-02, Courier)
Hino (LB510, 520, 560, KR320)
Hyundai (Starex)
Isuzu (Bighorn, Rodeo, Trooper)
Kia (Sorento, Pregio)
Land Rover (Defender)
Mitsubishi (Delica L300, L100, L200, Canter, Pajero)
Nissan (Frontier, Urvan, Cedric, Pickup, Safari)
Rolls Royce (Phantom, Shadow, Spirit, Spur)
Sssangyong (Chairman, Rexton, Stavic, Kyron)
Toyota (Hiace, Land Cruiser) etc.
NS70L
Ford (Escape, Transit)
Hyundai (Santa Fe, Sonata)
Mazda (5, RX8)
Naza (Ria)
Nissan (Navara, Sentra, Teana, Serana, Altima, Cefiro)
Proton (Preve)
Ssangyong (Rexton)
Toyota (Harrier, Hilux, Vigo, Vellfire, Land Cruiser, Lexus) etc.
NS60
Honda (Civic)
Toyota (Avanza, Prius, Vios) etc.
NS60L
Alado (QQ)
Ford (Econovan)
Honda (City, Civic)
Nissan (Almera, Grand Livina, Latio, March, Sylphy, Sunny)
Toyota (Caldina, Vios) etc.
NS70
Hyundai (Tucson)
Proton (Perdana)
Toyota (Celica, Corona, Fortuner, Hilux, Unser) etc.
55D23L
Ford (Econovan, Telstar, Laser Lynx)
Honda (Accord, Odyssey)
Hyundai (Accent, Santa Fe, Trajet, Elantra, Coupe, Tucson, i40)
Kia (Forte, Sportage, Carnival, Cerato, Rio)
Mazda (2, 3, 5, 6, 8, CX5, CX7, CX9, Astina, Lantis, MX5)
Nissan (X-Trail, Murano, Teana)
Proton (Exora, Inspira, Preve)
Renault (Koleos)
Subaru (Forester, XV, Impreza, WRX)
Toyota (Alphard, Camry, Celica, Corona, Estima, Fortuner)
Toyota (Harrier, Innova, Ipsum, Prado, Vellfire) etc.
DIN55L
Ford (Ranger)
Hyundai (Elantra, Getz, Matrix)
Kia (Cerato, Forte, Optima, Sorento) etc.