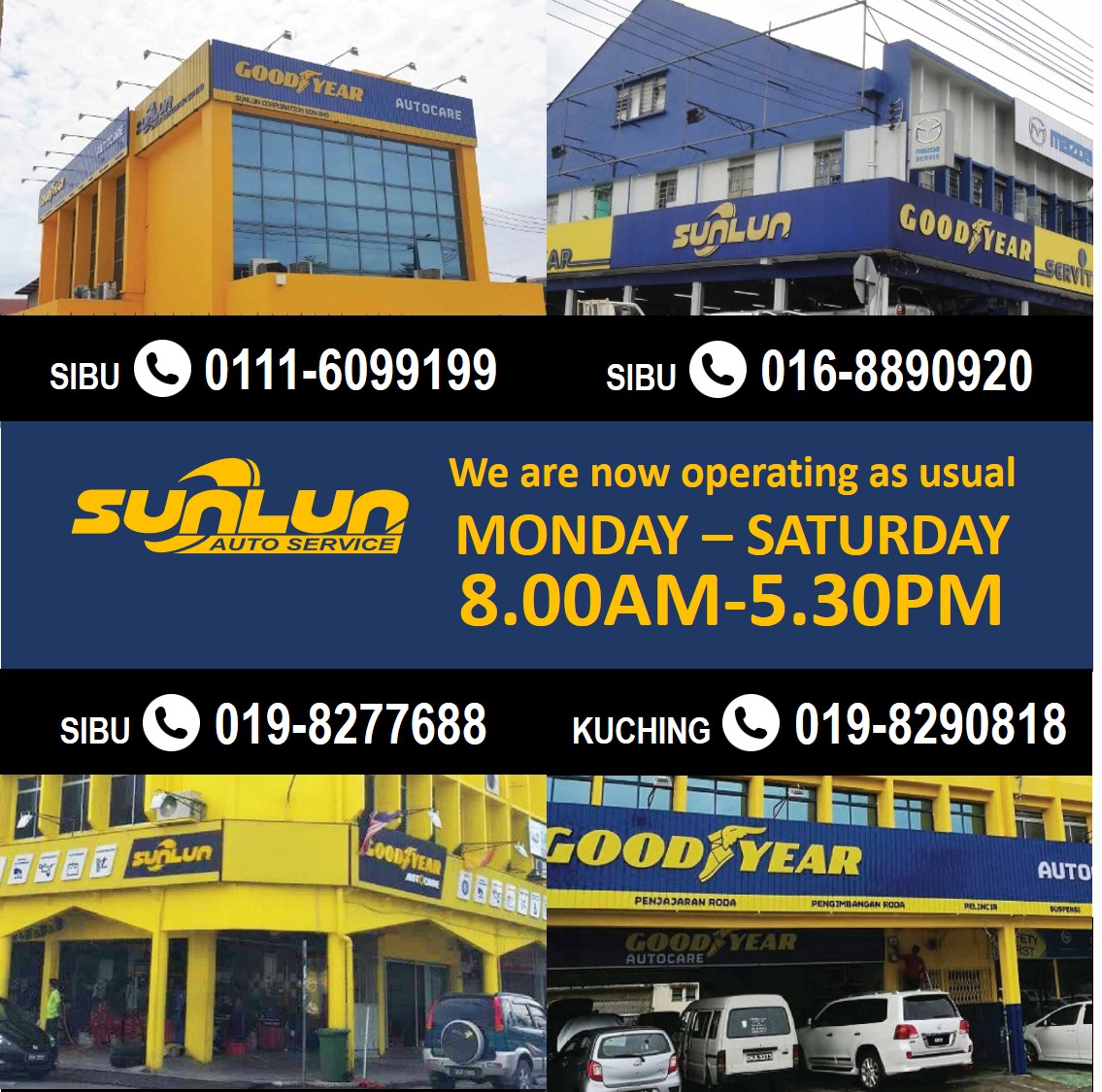 Sunlun Auto Service Centres in Sibu & Kuching Reopens #Stay Safe
Sunlun Auto Service – our retail tyre dealers and automotive service centres in Sibu and Kuching, Sarawak – are now reopened* and operating as usual:
Operating Hours:
8.00am-5.30pm (Mondays-Saturdays) except Public Holidays
Book A Service Appointment:
Sibu
No. 77, Lanang: +6 (016) 889 0920
No. 99, Lanang: +6 (0111) 609 9199
No. 4, Kpg Dato: +6 (019) 827 7688
Kuching
Pending: +6 (019) 829 0818
* In accordance with Sarawak State Disaster Management Committee's Conditional Movement Control Order – Standard Operating Procedures for reopening of economic sectors beginning 12 May 2020
Find Us Here
Book your next car service at Sunlun Auto Service. We are manned by dedicated technical and retail teams and equipped with modern automotive workshop equipments and car service facilities to provide motorists with convenient tyre and car services such as: 
Tyres/Tubes/Flaps for passenger cars, SUVs, MPVs, 4x4, trucks, lorries and more
Lubricants/Motor Oils for engines, gear boxes, transmissions, brakes and more
Spare Parts for periodic car maintenance, scheduled minor/major servicing and more
Services for tyre changing, tyre balancing, tyre rotation, wheel alignment and more
Services for periodic car maintenance, scheduled minor/major servicing and more
From passenger cars to light trucks, we serve a wide range of vehicles such as Toyota, Perodua, Proton, Hyundai, Mazda, Mitsubishi, Nissan, Honda and many more.
Browse our Contact page for location details.