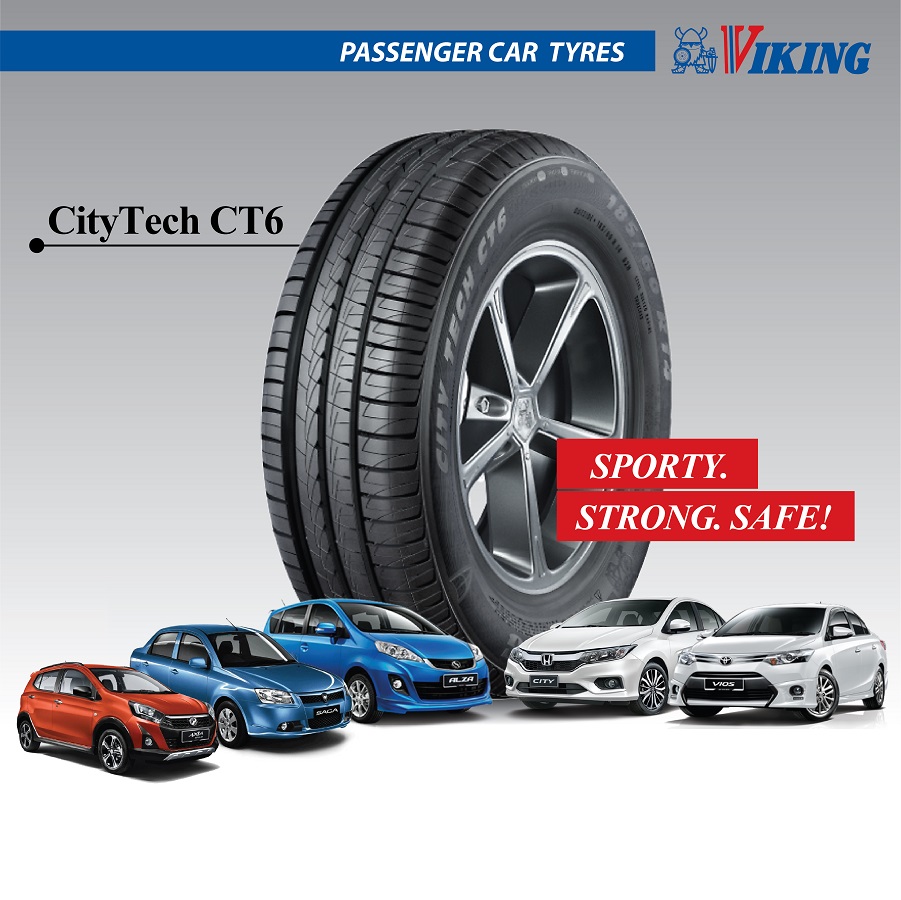 Viking CityTech CT6 Passenger Tyres
Experience a relaxing journey with Viking CityTech CT6 passenger car radial (PCR) tyre that goes the distance to give you a smooth, reliable and quiet comfort amidst the hustle and bustle of Malaysian roads.
Available in popular 12" to 15" tyre sizes, the CityTech CT6 offers a hassle-free ride for a wide range of best-selling car models in Sarawak and Sabah such as Perodua Axia, Proton Saga, Toyota Vios, Honda City and many more.
Better Tread Life
The CityTech CT6's outside rib-shoulders feature reinforced tie-bar which secures the blocks and stabilizes the rib to ensure consistent road contact for even tread wear.
Smooth Journey
The CityTech CT6's harmonic lateral groove angle enables smooth roll-in and roll-out to provide comfortable ride throughout the tyre life.
Quiet Ride
The CityTech CT6's closed shoulder blocks on the inside of the tyre create a noise barrier to reduce any harsh frequencies produced within the grooves.
Hot Sizes
155/70 R12 VIKING CITYTECH CT6
165/60 R13 VIKING CITYTECH CT6
175/70 R13 VIKING CITYTECH CT6
165/55 R14 VIKING CITYTECH CT6
175/65 R14 VIKING CITYTECH CT6
185/60 R14 VIKING CITYTECH CT6
195/60 R15 VIKING CITYTECH CT6
We Keep Your Wheels Turning
We sell a wide range of automotive tyres for compact cars, passenger cars, sedans, sports utility vehicles (SUVs), multi-purpose vehicles (MPVs), 4x4/4-wheel drive (4x4/4WD), ultra-light trucks, pickup trucks, light trucks, lorries and more.
Our network of tyre dealer workshops and automotive service centres such as Sunlun Auto Service, Tireman Autocare, Roadkruzer Tyremart, Rightpower Hyundai 3S Service Centre and Maxspeed Automart Mazda 3S Service Centre operate throughout East Malaysia including Sibu and Kuching in Sarawak and Kota Kinabalu in Sabah.
Browse our Products or Contact us for more details about our product availability.
About Viking
Viking tyre brand was founded in 1931 in Norway and has since joined Continental Group, the German tyre company which is one of the leading tyre manufacturers worldwide. Viking combines vast European manufacturing experience and advanced technology centres to develop consistently high-quality tyres including original equipment fitments for Volkswagen, Opel, Ford and Volvo.
Links
https://www.facebook.com/VikingTyresMalaysia/
Size Compatibility
155/70 R12 VIKING CITYTECH CT6
Perodua Viva / Kancil
165/60 R13 VIKING CITYTECH CT6
Perodua Viva / Kancil / Kelisa
175/70 R13 VIKING CITYTECH CT6
Proton Saga BLM / Wira / Satria / Persona
165/55 R14 VIKING CITYTECH CT6
Perodua Viva / Kancil / Kelisa / Kenari
165/60 R14 VIKING CITYTECH CT6
Hyundai i10
Proton Savvy
175/65 R14 VIKING CITYTECH CT6
Fiat 500 / Doblo
Honda City / Jazz
Hyundai i10
Perodua Axia / Bezza / Myvi / Alza
Proton Iriz / Persona / Saga
Toyota Vios
185/60 R14 VIKING CITYTECH CT6
Hyundai Accent / Getz
Perodua Myvi
Proton Saga / Wira / Iriz / Persona / Satria
185/65 R14 VIKING CITYTECH CT6
Honda City
Hyundai Getz / Matrix
Nissan Sentra
185/70 R14 VIKING CITYTECH CT6
Nissan Almera
Toyota Avanza / Ipsum
195/70 R14 VIKING CITYTECH CT6
Toyota Unser
175/50 R15 VIKING CITYTECH CT6
Kia Picanto
Proton Savvy
175/65 R15 VIKING CITYTECH CT6
Fiat Panda
Honda Jazz / City
Suzuki Swift
185/60 R15 VIKING CITYTECH CT6
Honda City / Jazz
Toyota Vios / Sienta / Prius C / Yaris
Volkswagen Polo / Hatchback / Vento
185/65 R15 VIKING CITYTECH CT6
Fiat Biposto
Nissan Almera / X-Gear / Grand Livina
Proton Ertiga
Toyota Avanza / Prius / Yaris
Volkswagen Polo
195/60 R15 VIKING CITYTECH CT6
Honda City / Civic
Naza Citra / Kia Rondo
Nissan Sentra
Proton Persona
Toyota Avanza / Altis / Ipsum / Prius C
195/65 R15 VIKING CITYTECH CT6
Ford Ecosport Ambiente / Trend
Honda Civic
Hyundai Elantra / Ioniq
Mazda Mazda3 / Mazda5 / Mazda6
Nissan Sylphy / Serena / Almera Turbo VL
Proton Exora
Toyota Corolla / Prius / Auris
205/65 R15 VIKING CITYTECH CT6
Hyundai Sonata
Toyota Innova / Ipsum / Camry
OTHER SIZES
165/50 R15 VIKING CITYTECH CT6
205/70 R15 VIKING CITYTECH CT6
* Always refer to your vehicle manual for specifications in your region