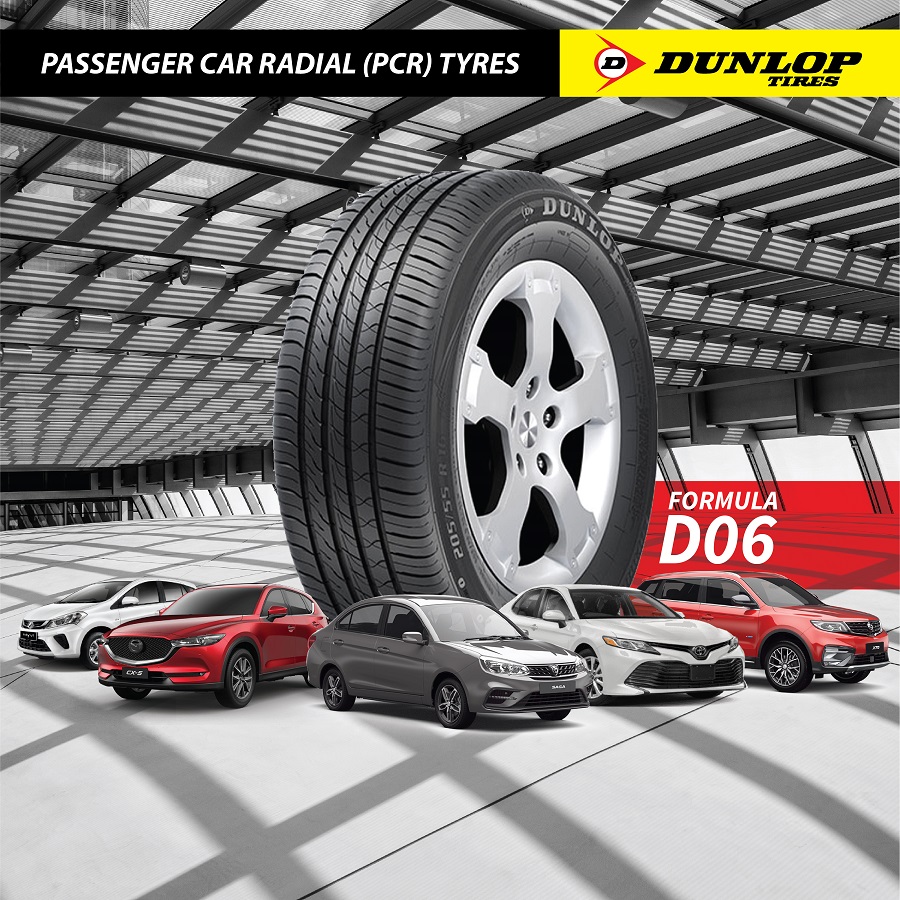 Dunlop Formula D06 Passenger Car Tyres
Come rain or shine, the Dunlop Formula D06 passenger car radial (PCR) tyres let you hit the road safely throughout both wet and dry seasons with year-round performance that is specially optimized to meet the needs of Sarawak and Sabah motorists.
The Formula D06 refines the inventive designs of its predecessor to further ensure its 15" to 19" passenger tyres are adapted reliably to local driving conditions across a wide range of vehicles from Perodua, Proton, Toyota, Honda, Mazda, Nissan and more.
Tyre Indicators
The Dunlop Formula D06 displays changes in wheel alignment with the all-new tyre alignment indicator visible on both inner and outer tyre shoulders to facilitate timely realignment that restores even tread wear for better mileage.   
The Dunlop Formula D06 also includes "Sun & Rain" indicators that (i) show reduced wet grip at tread depth of 3mm when "Rain" icon is worn off, and (ii) recommend tyre replacement at tread depth of 1.6mm when "Sun" icon is worn off.         
Wet Performance
The Dunlop Formula D06 strengthens grip on wet roads by providing efficient water drainage with "knife" shape groove located at each tyre rib, thereby reducing hydroplaning effect and enhancing wet braking due to wider sipes.   
The Dunlop Formula D06 further improves safety in wet weather conditions by incorporating narrow-to-wide groove which accelerate water towards the main groove as well as increase shoulder block stiffness for better handling.   
Handling Control
The Dunlop Formula D06's tread pattern stiffness is reinforced to enable precise handling on dry roads by interconnecting each block with multi tie-bar in the central ribs which also decrease noise emission for comfortable driving.     
Popular Sizes
185/55 R15 82H DUNLOP FORMULA D06
195/50 R15 82V DUNLOP FORMULA D06
195/55 R15 85V DUNLOP FORMULA D06
185/55 R16 83V DUNLOP FORMULA D06
205/55 R16 91V DUNLOP FORMULA D06
215/45 R17 87V DUNLOP FORMULA D06
225/45 R18 95W DUNLOP FORMULA D06
235/60 R18 107V DUNLOP FORMULA D06
225/55 R19 99V DUNLOP FORMULA D06
We Keep Your Wheels Turning
We sell a wide range of automotive tyres for compact cars, passenger cars, sedans, sports utility vehicles (SUVs), multi-purpose vehicles (MPVs), 4x4/4-wheel drive (4x4/4WD), ultra-light trucks, pickup trucks, light trucks, lorries and more.
Our network of tyre shop dealers and automotive service centres such as Sunlun Auto Service, Tireman Autocare, Roadkruzer Tyremart, Rightpower Hyundai 3S Service Centre, Maxspeed Automart Mazda 3S Service Centre and Rightpower Ford 3S Service Centre operate throughout East Malaysia including Sibu and Kuching in Sarawak and Kota Kinabalu in Sabah.
Browse our Products or Contact us for more details about our product availability.
About Dunlop
Dunlop is one of the world's leading manufacturers of high-performance tyres and original equipment (OE) supplier for major car brands such as Porsche, BMW, Mercedes, Audi, Toyota and Nissan. Credited with developing the world's 1st pneumatic tyre in 1888, Dunlop blends more than a century of motor racing experience with innovative technology to produce technical solutions tuned to the highest demands from the racetrack to the road.   
Links
https://www.dunloptyres.com.my/products/passenger-tyres/formula-d06/
Size Compatibility
185/55 R15 82H DUNLOP FORMULA D06
Fiat 500 / Panda
Honda City / Jazz
Mitsubishi Attrage / Mirage G4
Perodua Alza / Myvi / Axia / Bezza 
Proton Persona / Saga / Iriz / Satria / Wira
Toyota Vios
195/50 R15 82V DUNLOP FORMULA D06
Proton Saga BLM / Satria / Wira
195/55 R15 85V DUNLOP FORMULA D06
Honda City
Proton Waja / Gen2 / Satria Neo / Persona
Perodua Alza / Myvi
Volkswagen Polo
185/55 R16 83V DUNLOP FORMULA D06
Honda City / Jazz
Toyota Yaris
195/50 R16 88V DUNLOP FORMULA D06
Ford Fiesta
Lotus Elise
Toyota Sienta / Vios / Yaris
195/60 R16 89H DUNLOP FORMULA D06
Honda BR-V
Nissan Serena / Sylphy
205/45 R16 83V DUNLOP FORMULA D06
Proton Wira SE
205/50 R16 87V DUNLOP FORMULA D06
Nissan Almera Impul
205/55 R16 91V DUNLOP FORMULA D06
BMW 3 Series
Daimler C Class
Honda Civic
Hyundai Elantra
Kia Forte
Lexus CT200h
Mazda 5
Mercedes A200
Nissan Serena / Leaf / Almera Turbo (VLP/VLT)
Proton Preve / Exora
Toyota Corolla Altis
Volkswagen New Beetle / Golf / Jetta / Passat / Touran
215/60 R16 95V DUNLOP FORMULA D06
Honda Accord
Nissan Teana
Toyota Camry
Volkswagen Beetle
215/65 R16 98H DUNLOP FORMULA D06
Audi Q3
Mazda CX-30 Skyactiv-G 2.0
Mitsubishi ASX
Toyota Rush
Volkswagen Transporter T5
205/45 R17 84V DUNLOP FORMULA D06
Kia Rio
Mazda MX-5
Nissan Almera Impul
Peugeot 208
Toyota Vios GR-S 1.5
215/45 R17 87V DUNLOP FORMULA D06
Honda Civic
Hyundai Elantra
Kia Cerato / Forte
Naza Cerato
Lotus Exige (Sport/Cup)
Proton Preve
Subaru BRZ
Toyota Corolla / CT
215/50 R17 91V DUNLOP FORMULA D06
Ford Focus 5DR 1.5L EcoBoost Trend / Sport+
Honda Civic 1.5 TC
Nissan Leaf
Opel Astra
Peugeot 408
215/55 R17 94V DUNLOP FORMULA D06
Honda Odyssey
Kia Optima
215/60 R17 96V DUNLOP FORMULA D06
Honda HRV
Nissan Teana
Toyota Camry
225/45 R17 91V DUNLOP FORMULA D06
BMW 1-Series
Hyundai Elantra Executive / IONIQ Hybrid
Lotus Elise Sport 220 / Elise Cup 250
Mercedes Benz C-Class / SLK
Toyota Corolla 1.8G
Volkswagen Golf R-Line / Jetta
225/50 R17 94V DUNLOP FORMULA D06
Honda Accord
Proton Perdana  
225/65 R17 102V DUNLOP FORMULA D06
Honda CR-V 2.0 2WD i-Vtec
Mazda CX-5 (2.0L/2.5L)
Nissan X-Trail (2.0 2WD/2.5 4WD)
Proton X70 Standard 2WD
Suzuki Grand Vitara 2.0 AT
225/40 R18 92W DUNLOP FORMULA D06
Audi A3 Sedan 1.4
BMW 1-Series
Fiat Tipo
Mercedes Benz A-Class / B-Class
Mini Cooper S Clubman
Toyota GR Yaris 1.6 (MT)
Volkswagen Golf GTI 2.0
225/45 R18 95W DUNLOP FORMULA D06
Alfa Romeo Giulia
BMW 3-Series
Subaru Levorg 1.6GT-S
235/50 R18 101V DUNLOP FORMULA D06
Toyota Alphard 3.5L / Vellfire 2.5L
235/55 R18 104V DUNLOP FORMULA D06
Audi Q3 advanced 1.4
Lexus RX330
Toyota Harrier 2.0T
Volkswagen Tiguan 1.4
235/60 R18 107V DUNLOP FORMULA D06
Alfa Romeo Stelvio
Audi Q5
Honda CR-V 1.5TC 2017
Hyundai Santa Fe
Jaguar E-PACE
Kia Sorento
Lexus RX270 / RX350
Volvo XC60
245/40 R18 97W DUNLOP FORMULA D06
Audi A4 Sedan sport 2.0
BMW 5-Series
Subaru WRX 2.0 CVT / STI 2.5
225/55 R19 99V DUNLOP FORMULA D06
Mazda CX-5 2.5L / CX-8 2WD-AWD HIGH
Nissan X-Trail
Porsche Taycan
Proton X70 Premium 2WD / X 2WD
Renault Koleos Signature
OTHER SIZES
265/35 R18 97W DUNLOP FORMULA D06
* Always refer to your vehicle manual for specifications in your region