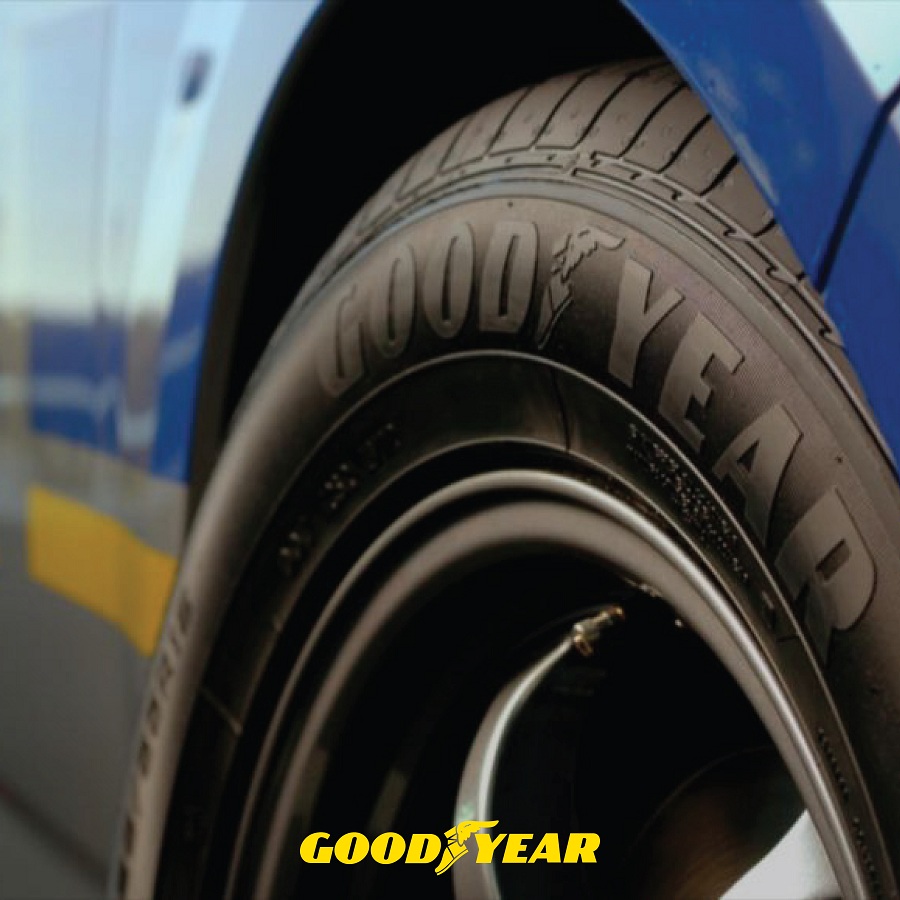 Goodyear - The Technology Behind The Tyres
Goodyear introduces their latest tyre technologies from over 100 years of innovation powering their tyre designs to provide the best driving experience.
ActiveBraking Technology
Goodyear ActiveBraking Technology results in shorter braking distance on both wet and dry roads by using innovative 3D tread block design to increase contact between tyre and road during hard braking. ActiveBraking is found in Goodyear Eagle F1 Asymmetric 2 passenger (PCR) tyres, an addition to the sports performance passenger segment that delivers up to 3m shorter braking distance.
FuelSaving Technology
Goodyear FuelSaving Technology reduces fuel consumption and CO2 emissions by combining lightweight structure, optimised tyre shape and advanced tread compound to decrease the energy required to roll. FuelSaving Technology is found in Goodyear Assurance TripleMax passenger (PCR) tyres.
HydroGrip Technology
Goodyear HydroGrip Technology improves wet weather performance by combining innovative functionalized polymer tread compound for maximum wet grip, larger surface area contact with optimized pressure distribution on key block elements for maximum control and biting edge large blocks for maximum braking ability. This latest grip technology innovation helps Goodyear Assurance TripleMax passenger (PCR) tyres cut braking distance on wet roads.
QuietTred Technology
The latest evolution of Goodyear QuietTred Technology minimises tyre noise and vibrations by combining noise dampening tread design with optimised cavity and carcass designs. This has helped Goodyear EfficientGrip passenger (PCR) tyres and Goodyear EfficientGrip SUV tyres deliver a smooth ride without compromising safety.
SilentArmor Technology
Goodyear SilentArmor Technology delivers smoother and quieter riding experience with a super absorbent layer made with Dupont™ Kevlar™ employed between the tyre's tread and underlying belts. This technology is now bolstering the resistance of Goodyear Wrangler AT/SA all-terrain truck tyres to cuts and punctures.
SmartTred Weather Reactive Technology
Goodyear SmartTred Weather Reactive Technology provides traction and shorter braking distances in wet conditions by featuring performance-specific tread zones. This unique technology is showing its versatility in Goodyear Wrangler HP AW all-weather, high performance 4x4 tyres.
SportGrip Technology
Goodyear SportGrip Technology combines innovations from tread design and tyre compound to deliver precise and responsive handling, less deformation when cornering and incredible grip on wet roads. SportGrip Technology is found in Goodyear Eagle F1 Directional 5 passenger (PCR) tyres.
TredLife Technology
Goodyear TredLife Technology combines innovations in tyre tread compound and tread depth design to provide outstanding mileage and incredible tread life by preventing irregular wear. This latest tread technology helps Goodyear Assurance DuraPlus passenger (PCR) tyres and Goodyear DuraPlus passenger (PCR) tyres increase the usable life of the tyre for longer mileage.
"GOODYEAR. MORE DRIVEN"
Goodyear tyres are available at our network of retail tyre and automotive service centres such as Sunlun Auto Service (Goodyear Autocare Dealer), Tireman Autocare, Roadkruzer Tyremart, Rightpower Hyundai 3S Service Centre and Maxspeed Automart Mazda 3S Service Centre. We sell a range of Goodyear tyres throughout Sibu and Kuching in Sarawak, East Malaysia and Kota Kinabalu in Sabah, East Malaysia:
Goodyear passenger car radial (PCR) tyres
Goodyear 4x4 tyres
Goodyear SUV tyres
Goodyear ultralight truck (ULT) tyres
Goodyear light truck (LT) tyres
Goodyear truck and bus (TB) tyres
Goodyear rear farm tyres
Browse our Products or Contact us for more details on Goodyear products.
Link to article
https://www.goodyear.com.my/learn/goodyear-technology