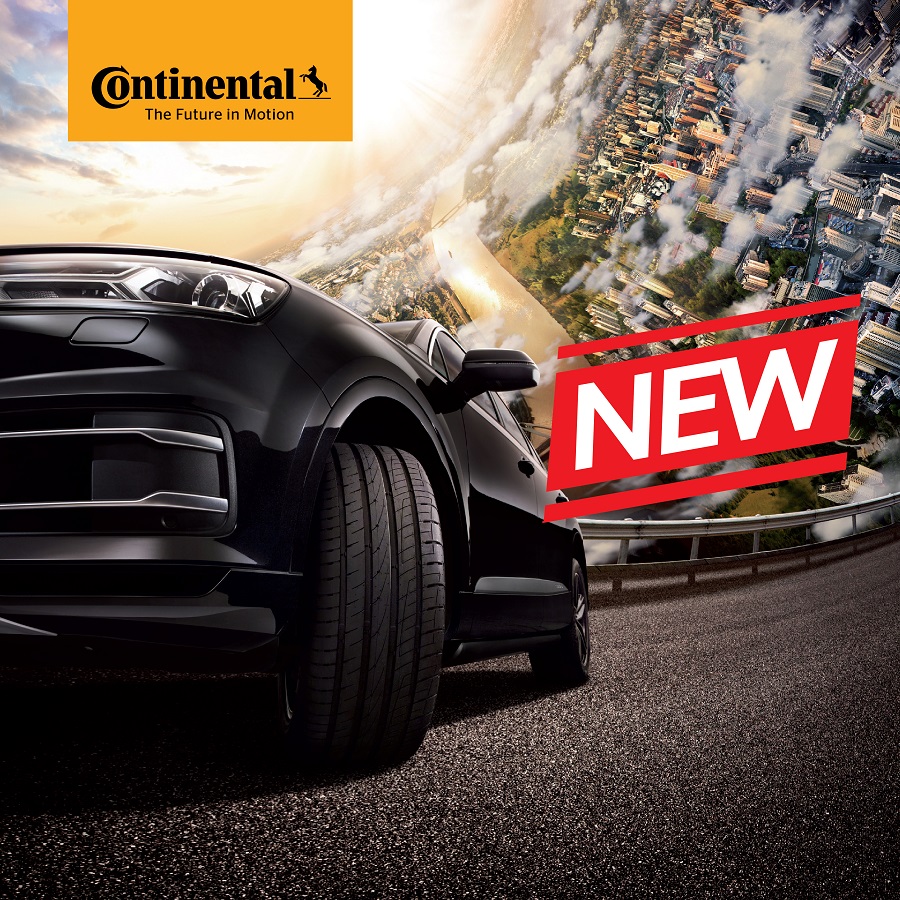 NEW! Continental Passenger, SUV/4x4 & Van Tyres
Keep the future in motion with our brand-new range of Continental passenger car radial (PCR), SUV/4x4 and van tyres in Sarawak and Sabah, East Malaysia.
Instantly recognizable by its iconic "rampant horse" trademark representing strength, agility and endurance, Continental is one of the world's Top 5 tyre company with a 150-year history at the leading edge of German tyre innovation.
As testament to Germany's renowned quality standards, Continental tyre is the trusted original equipment (OE) tyre relied on by 20 manufacturers, 51 brands & 273 active models worldwide from Perodua MyVi to Tesla Model-S.
Today, Continental's global team in 61 countries advance new technologies recognized by prestigious automotive bodies such as PACE Awards – conducting 140,000 tyre tests over 200-million km annually to ensure optimal performance in all surfaces and weather:
CONTINENTAL PASSENGER (PCR) TYRES
Available in 13" to 20" sizes
ComfortContact 1
ComfortContact CC5
ComfortContact CC6
EcoContact 5
MaxContact MC5
MaxContact MC6
PremiumContact 2
UltraContact UC6
CONTINENTAL SUV/4x4 TYRES
Available in 15" to 22" sizes
4x4 Contact
CrossContact AT
CrossContact LX
CrossContact LX 2
CrossContact LX Sport
CrossContact UHP
Ultracontact UC6 SUV
CONTINENTAL VAN TYRES
Available in 12" to 16" sizes
VanContact
VanContact 100
VanContact AP
CONTINENTAL LOCAL (OE) FITMENT
Not Exhaustive
CAM Placer-X
Ford Fiesta
Great Wall Haval H1
Honda Civic 1.8 / Civic 1.5 Turbo
Hyundai Tucson / Elantra
Kia Forte
Mazda CX-5
Mitsubishi ASX
Naza Cerato
Nissan Teana / Sylphy / Almera
Nissan Grand Livina / X-Gear / X-Trail
Perodua MyVi
Peugeot 408
Proton Preve
Renault Captur
Subaru XV / Forester
Toyota Vios
Volkswagen Vento / Passat / Jetta
Be inspired by the confidence and reliability that gives you the freedom to Keep Your Wheels Turning with our latest range of high-quality Continental tyres.
Browse our Products or Contact our tyre dealers and car workshops in Sibu and Kuching, Sarawak and Kota Kinabalu, Sabah in East Malaysia for more details on Continental tyres.