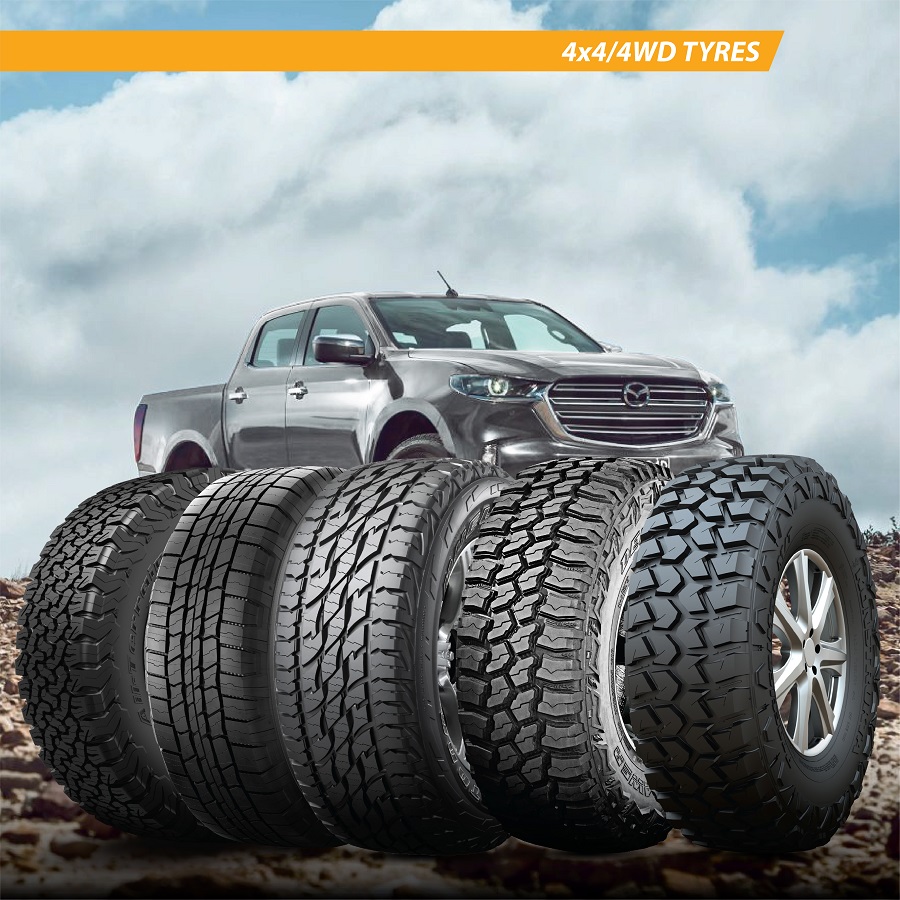 The Right 4x4 Tyres for Your 4WD Vehicles
Once regarded as the handyman's workhorse, the new generation of 4x4 vehicles such as Ford Ranger and Mazda BT-50 pickup trucks have evolved into modern lifestyle automobiles with top-end performance, spacious comfort and even cutting-edge smart technology. 
When paired effectively with the right choice of 4x4 tyre, you get the most out of your 4WD vehicle by incorporating today's latest tyre capabilities that can better match your driving needs – adapting to the way you live and work for the best balance of both worlds.
All-Terrain Tyres
If you mostly drive on paved roads, 4x4 all-terrain (AT) tyres are the smarter choice as they provide versatile traction and durability in both on and off-road conditions. They are also quieter, more efficient and have greater longevity compared to mud terrain (MT) tyres.
Choose the best tyre for your driving needs from a wide range of rugged 4x4 all-terrain (AT) tyres available in Malaysia:
BFGOODRICH ALL TERRAIN T/A KO2
MICHELIN LTX TRAIL
MICHELIN LTX FORCE
BRIDGESTONE DUELER A/T 697
BRIDGESTONE DUELER A/T 001
GOODYEAR WRANGLER AT SILENTTRAC
GOODYEAR WRANGLER AT ADVENTURE
GOODYEAR WRANGLER DURATRAC
GOODYEAR WRANGLER AT/S
GOODYEAR WRANGLER AT/SA
CONTINENTAL CROSSCONTACT AT
HANKOOK DYNAPRO AT2 (RF11)
HANKOOK DYNAPRO AT M (RF10)
LAUFENN X FIT AT (LC01)
VIKING TERATECH AT6
DUNLOP MAXGRIP AT5
DUNLOP GRANDTREK AT3
DUNLOP GRANDTREK AT1
DUNLOP TG20
DEESTONE PAYAK R404 AT
BLACKHAWK HISCEND-H HA11
ANCHEE AC858
KAPSEN PRACTICALMAX AT (RS23) and more
Mud-Terrain Tyres
If you mostly drive in rough off-road conditions, 4x4 mud-terrain (MT) tyres are the fitting choice as they are distinctly designed to provide biting grip on uneven, muddy surfaces. They are also heavier duty for effective puncture resistance and protection against damage.
Choose the best tyre for your driving needs from a wide range of rugged 4x4 mud-terrain (MT) tyres available in Malaysia: 
BFGOODRICH MUD-TERRAIN T/A KM3
BRIDGESTONE DUELER M/T 674
HANKOOK DYNAPRO MT2 (RT05)
HANKOOK DYNAPRO MT (RT03)
VIKING TERATECH MT
DUNLOP GRANDTREK MT2
DUNLOP GRANDTREK MT1
DEESTONE MUD CLAWER R408 MT
DEESTONE MUD CLAWER R405 MT
BLACKHAWK HISCEND-H HM01
KAPSEN PRACTICALMAX MT (RS25) and more
We Keep Your Wheels Turning
We sell a wide range of automotive tyres for compact cars, passenger cars, sedans, sports utility vehicles (SUVs), multi-purpose vehicles (MPVs), 4x4/4-wheel drive (4x4/4WD), ultra-light trucks, pickup trucks, light trucks, lorries and more.
Our network of tyre shop dealers and automotive service centres such as Sunlun Auto Service, Tireman Autocare, Roadkruzer Tyremart, Rightpower Hyundai 3S Service Centre, Maxspeed Automart Mazda 3S Service Centre and Rightpower Ford 3S Service Centre operate throughout East Malaysia including Sibu and Kuching in Sarawak and Kota Kinabalu in Sabah.
Browse our Products or Contact us for more details about our product availability.