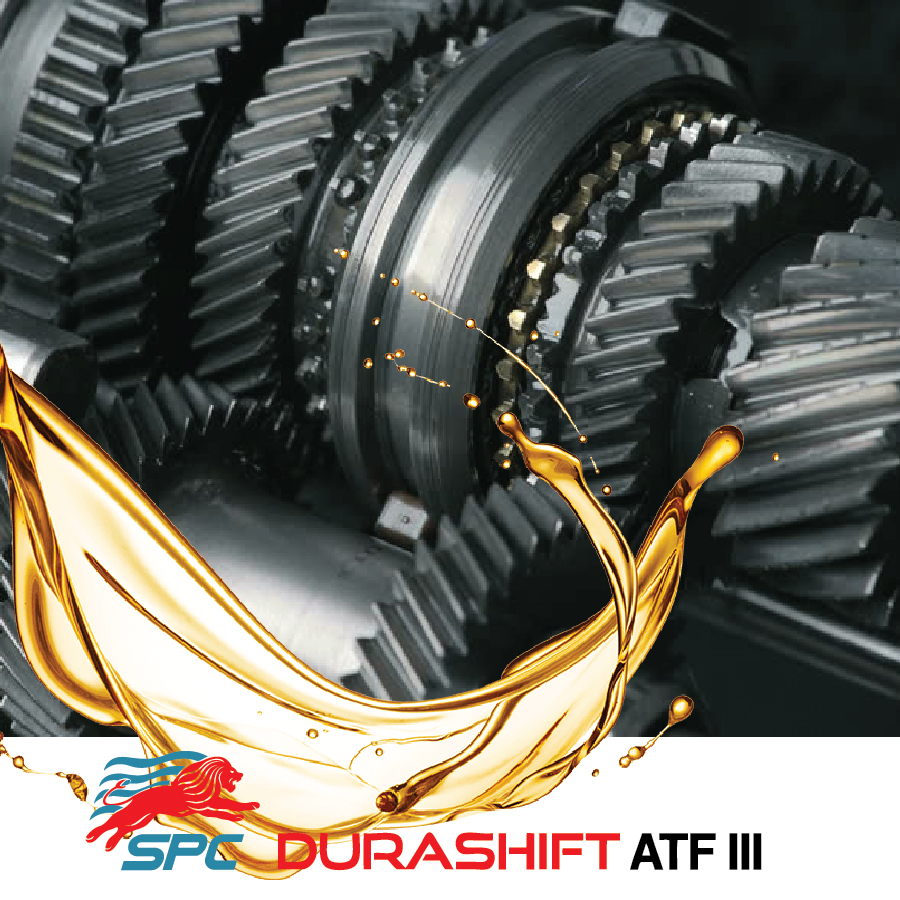 SPC Durashift Automatic Transmission Fluid (ATF) Services
Keep your car's auto transmission gearbox running smoothly by staying on top of your automatic transmission fluid (ATF) maintenance services.
Why Do I Need To Replace ATF?
As with other vital oil fluids and lubricants in your car, the ATF in your auto transmission gearbox degrades over time and affects its ability to properly lubricate and efficiently transmit power from the engine – along the drivetrain – to your wheels.
Therefore, periodic replacement of ATF according to your car manufacturer's recommended service interval is an important part of every car's scheduled maintenance service to prevent premature transmission gear wear/damage and ensures optimal performance to keep your wheels turning longer.
SPC Durashift ATF III Lubricant
SPC Durashift ATF III is an automatic transmission fluid (ATF) with synthetic technology for modern passenger cars and light commercial vehicles. This high-performance ATF from SPC Lubricants meets the requirements of Dexron IIIH, Mercon, Allison C-4 and Caterpillar TO-2 and provides multi-purpose protection such as:
Excellent high temperature oxidation and shear stability
Helps minimize wear, rust and corrosion
Low volatility to help minimize evaporation loss
Compatible with synthetic rubber seals
Ideal for automatic transmissions and power steering systems requiring Dexron III and Mercon specifications
We Keep Your Wheels Turning
SPC Durashift ATF III Lubricant is available at our network of retail tyre dealers and automotive service centres such as Sunlun Auto Service, Tireman Autocare, Roadkruzer Tyremart, Rightpower Hyundai 3S Service Centre and Maxspeed Automart Mazda 3S Service Centre.
We operate throughout Sibu and Kuching in Sarawak, East Malaysia and Kota Kinabalu in Sabah, East Malaysia, and provide a wide range of automotive services for compact cars, sedans, sports utility vehicles (SUVs), multi-purpose vehicles (MPVs), 4x4/4-wheel drive (4x4/4WD), ultra-light trucks, light trucks, lorries and more.
Browse our Products or Contact us for more details on our automotive lubricants and services.  
About SPC Lubricants
SPC Lubricants is produced by Singapore Petroleum Company Limited (SPC); a fully-owned subsidiary of PetroChina which is part of China National Petroleum Corporation (CNPC) – one of the Top 5 global oil and gas producer and supplier. Founded in 1969, SPC today is actively involved in the production and distribution of crude and refined petroleum products for motorists and businesses.
SPC Automotive Engine Oils
SPC Transmission & Drivetrain Fluids (ATF)
SPC Brake Fluids & Radiator Coolants
SPC Diesel Engine Oils
SPC Automotive Gear Oils (Gearlube)
SPC Multi-Purpose Greases
SPC products are licensed with American Petroleum Institute (API), Japanese Automotive Standard Organization (JASO) and National Marine Manufacturers Association (NMMA) and are approved by OEMs from BMW, MACK, MAN, Mercedes, MTU, Porsche, Renault, Scania, Volkwagen and Volvo.
Links
https://www.spc.com.sg/
http://www.petrochina.com.cn/ptr/index.shtml
http://www.cnpc.com.cn/en/index.shtml